Everyone should be celebrating Deckard Cain's replacement in Diablo 4, and watching his lore videos
Blizzard actually didn't tarnish the legacy of Deckard Cain, in fact, his predecessor might actually end up surpassing his legend.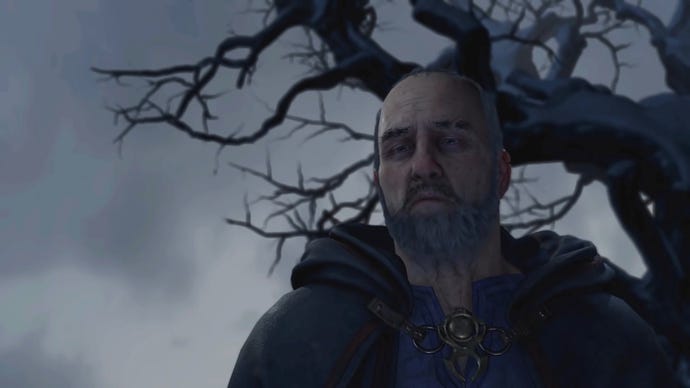 Anyone who's remotely familiar with the world of Diablo no doubt knows the name Deckard Cain. You may have even heard his distinct voice at some point or another, even if you don't know him by name.
Deckard Cain was one of Diablo's long-standing characters, having effectively served as the series' lore scholar. He was the go-to in past games for all your lore questions, and his iconic "Stay awhile and listen" is up there with the likes of "It's dangerous to go alone", though nowhere near as played out.
Deckard Cain is sadly no longer with us, so Blizzard had to find a new character that could replace him as the Horadrim Order's man of knowledge of the arcane in Diablo 4 and beyond. Lorath Nahr is the studio's choice, and what a hit it's already been.
Lorath is one of the key characters in Diablo 4's narrative. If you played the beta or any of the previous Diablo 4 tests, you already know him well. A large part of why everyone is loving him is the acting chops of Ralph Ineson, whose voice, and cadence are unmistakeable.
I couldn't get enough of him during my time with Diablo 4, and I know Connor loved him as well (you can read all about that in his review). Blizzard knew it had a new fan favourite on its hands, so the studio put him to use beyond the in-game dialogue.
Enter: The Book of Lorath, a series of lore videos on YouTube, where Lorath recounts the events of the entire series, starting with creation itself all the way to the events of Diablo 3, and its expansion. The fourth part of which just dropped, too.
All of them are essential watching for new players looking to understand the Eternal Conflict, and learn about the key players in the unending battle at the core of the Diablo universe. Longtime fans will find them to also be a nice refresher, especially for some of the older games in the series. And just look at the beautiful artwork that fills the screen as Lorath narrates, it's definitely on par with the quality of Diablo 4 itself.
Diablo 4 unlocks in a few hours for early access players, and releases in full on June 6 for PC, PS4, PS5, Xbox One, and Xbox Series X/S.