Cyberpunk 2077 Likely Won't Come to PS5 or Scarlett Around Launch
Keanu's only got eyes for the current gen.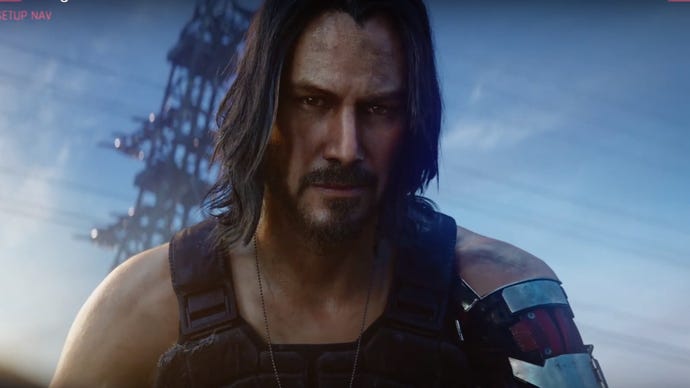 This article first appeared on USgamer, a partner publication of VG247. Some content, such as this article, has been migrated to VG247 for posterity after USgamer's closure - but it has not been edited or further vetted by the VG247 team.
CD Projekt Red's Cyberpunk 2077 is set to give players a glimpse of the future in just a few months' time, but it may be a long while before the RPG comes to future consoles. During a new earnings call, CD Projekt Red confirmed it is looking into development for new console hardware, but added that it's unlikely to release anything for the PlayStation 5 or Project Scarlett "around the launch timeframe of those consoles."
Back in March, CD Projekt Red president and CEO Adam Kici?ski told investors that Cyberpunk 2077 could be a cross-gen title, but it appears that the company is opting not to target a Holiday 2020 window if it does decide to target the next generation.
The prospect of developing for next-gen consoles was raised on the earnings call along with monetization questions about Cyberpunk 2077's multiplayer mode. CD Projekt Red says "it's definitely not the time" to talk specifics of what the multiplayer's business model will be, beyond confirming that it will feature microtransactions of some form while promising to uphold the company's "general policy toward deals with gamers." In September, CD Projekt Red announced it plans to launch Cyberpunk 2077's multiplayer after it has released a mix of free and premium single-player DLC a la The Witcher 3: Wild Hunt.
On the call, CD Projekt Red also fielded a question about whether launching in close proximity to Half-Life: Alyx, set for a March 2020 release, was a concern for Cyberpunk 2077. Citing that Valve is targeting "a very different niche" with it's VR-only release, a representative for CD Projekt Red said the company is not afraid that the release will impact Cyberpunk 2077. Earlier this year, CD Projekt Red reiterated that it is not pursuing VR support for Cyberpunk 2077.
Prior to the announcement of 2077's release date, there was speculation that it could slip into the next generation of consoles, but CD Projekt Red has maintained that the game is built from the ground-up with the PS4, Xbox One, and PC in mind. CD Projekt Red has shown it is not averse to porting its games to other systems well after their original release—2015's The Witcher 3 was released for the Switch just last month.
Cyberpunk 2077 is set to release for the PC, PS4, and Xbox One on April 16, 2020. While it may or may not come to the next-generation of console hardware, we know Cyberpunk 2077 is also confirmed for a release on Google's Stadia game streaming platform sometime later in 2020.
Thanks, Gamespot.