Avalanche: "We're going to have some fun" with Just Cause 2 DLC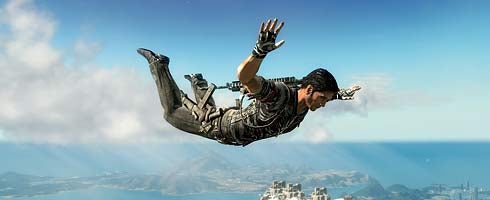 Avalanche Studios has revealed that loads of DLC is planned for Just Cause 2, giving you plenty to do once you have completed the 15 to 20 hour main campaign.
Speaking with Eurogamer, lead designer Peter Johansson said that while the developer could not "talk about specifics", there is still plenty to do outside of the main campaign, which is less than a quarter of the entire game.
Johansson also told the site that his current playtime was only 60 percent complete, and he has already put in 55 game hours.
"Yeah, we're going to have some fun with DLC," said Johansson, "but unfortunately I can't talk about the specifics.
"We're going to have a lot of DLC. We'll see what happens. DLC is important, but a game like Just Cause 2 can live pretty long because it's not just playing through the story and being done with it - there's the completion rating and playing with friends. That's what we do in the office".
Avalanche and Square are also considering a website that updates user activity, similar to Rockstar's Social Club.
"I'm not sure what the plans are from Square's side, but we are definitely going to do that for the game; we'll have these metrics, lots of metrics, and everything in as simple a form as we can do," said Johansson.
"In this game it's really fun to track completion rating as well, because this game is going to take people a long time to do.
"This genre is getting crowded, so you really need to find your own direction and identity. We're not taking ourselves too seriously and a lot of the ideas in Just Cause 2 started out from testing fun ideas. I guess that's down to having freedom as a developer, and that's really fun to work with".
Game's out for PC, PS3, and Xbox 360 March 23 and 26 in North America and Europe, respectively, and the PS3 version will include exclusive YouTube capabilities.