Anthem VIP demo hiccups slowly being resolved, here's some known issues and workarounds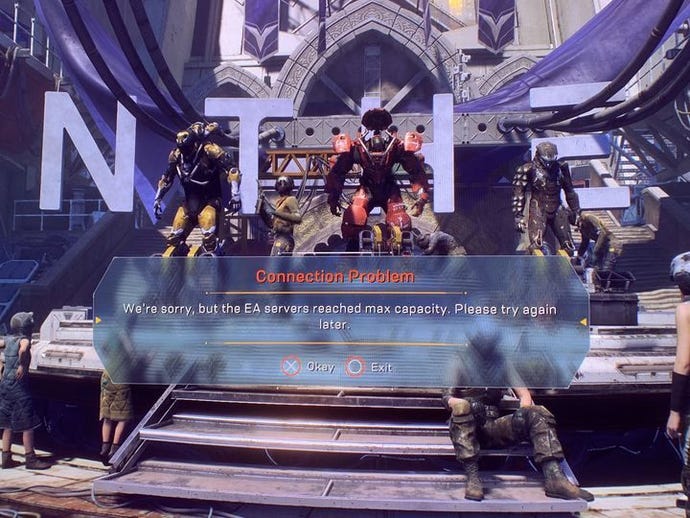 EA continues to work on issues related to the Anthem VIP demo, but for the most part, things seem to be back on track.
When the Anthem VIP demo went live yesterday, the servers became overworked, and decided to go on strike for a bit. Thankfully, EA managed to reach an agreement of sorts through mediation, and many players were able to get back in the game.
Overnight, EA continued to combat connectivity and login issues and it seems most of the hiccups have been resolved. That said, there are still some known issues being tracked by the team.
Below you will find a list of the most reported issues, currently, and possible workarounds.
Anthem VIP demo known issues and workarounds
Known Issues
Rubber-banding during free roam and/or missions.
Infinite loading screens when launching the game or entering an expedition.
Some players are unable to access their Anthem VIP demo friends codes.
Javelin unlock issues are being looked into, and the teams have identified a couple of possible causes.
Second javelin not unlocking when reaching level 12. - Most players should see their unlock token in the Forge now.
Workarounds
Unable to get past the Anthem title screen

Note: One reason for getting this message is if you did not redeem your code on the correct EA account. If that happened, follow the steps on this page.

Xbox One players unable to access the Anthem VIP demo - Resolved

Changes have been made which should improve Xbox connectivity for the VIP Demo. If you're running into issues try restarting your Xbox.

95% loading and then stopping

Not a fix, it if you are hitting the 95% load hang Try quitting out and restarting. You may get a message, "Game server detected, do you want to rejoin?" say yes. That MAY get past the block. Again, not a fix, but it may get you past.
We'll do our best to keep this post updated with new information from EA and Bioware as it becomes available. You can also keep an eye on the EA Help Twitter account. Original story follows.
Original
If you're trying to get into the Anthem VIP demo, well, the servers are rather full at the moment. But don't worry: EA is working to get things running smoothly.
Folks trying to jump into the Anthem VIP demo are having a bit of an issue. Apparently, the servers have reached maximum capacity in some cases.
Some users have been able to get in, but are being kicked soon after. Instances of "error retrieving Anthem live service data" messages have also been reported. Others players have stated they were finally able to get in after long wait times, so hopefully this will apply to everyone soon enough.
EA said it's working on adding more server capacity to the Anthem demo. Just keep trying and eventually you will get in.
We're adding more server capacity to the #Anthem demo right now. Hang tight while we work to get everyone into the game.

— EA Help (@EAHelp) January 25, 2019
EA is also looking into the "infinite loading issue," and suggests you relaunch the game try rejoining a mission to see if it rectifies the issue for you.
We're looking into the infinite loading issue with the #AnthemGame demo. In the meantime, try relaunching the game and rejoining your mission to see if that helps you.

— EA Help (@EAHelp) January 25, 2019
The VIP demo kicks off today and runs through Sunday, January 27 so hopefully things will get settled soon.
We'll update you with any changes as they come.