Aliens Vs Predator special editions - what they look like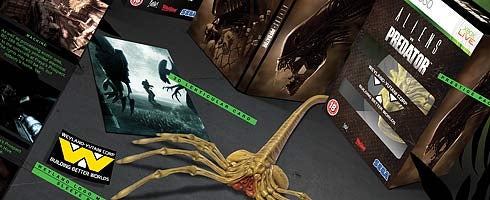 The wait's finally over. Hit the link for a picture of a "3D lenticular postcard" and "replica facehugger model".
Sega just put out images of the two AvP special editions, namely the Survivor and Hunter editions.
The latter's the biggie, complete with its lenticular postcard, and can only be ordered from HMV in the UK.
The Survivor edition's basically the game in a metal case with some DLC, but that's better than a kick in the face. Or a Predator claw up the ass. You can only get it from GAME.
If you pre-order from Play you get some multiplayer skins. Woot. Images and details of all are below.
It's out for PC, PS3 and 360 on February 19.
The Survivor Edition
Alien Vs Predator game in steelbook packaging
Four multiplayer maps - docks, outpost, machine & hive
The Hunter Edition
Alien Vs Predator game in steelbook packaging
Replica facehugger model
Four multiplayer maps - docks, outpost, machine & hive
Weyland-Yutani material patch
3D lenticular postcard
Multiplayer skins
Predator Skin: The Serpent Hunter. The mask worn by the most formidable Xenomorph slayer of all-time.
Marine Skin: SGT. Kaneko. Veteran of 27 drops, including post-incident quarantine of Fiorina 'Fury' 161.
Alien Skin: Number 6. Personally selected by Karl Bishop Weyland for the infamous 'Program'