Activision tipped for imminent NASCAR 2011 reveal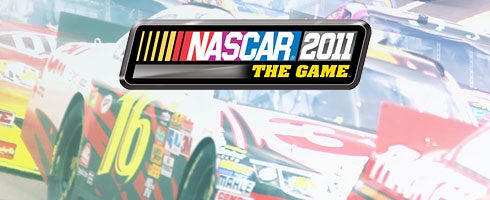 Following confirmation from EA Sports last year that talks on future NASCAR games had stalled, strong rumour is pointing to the imminent reveal of a Eutechnyx-developed NASCAR 2011, to be published by Activision.
Additional reporting by Debabrata Nath.
Both a NASCAR 2011 logo and what appears to be a concept art for the game have been posted on the Eutechnyx forums, taken from locked, Google-cached pages on the Eutechnyx website.
UK sources have confirmed today that the project is real and will be published by Activision.
Eutechnyx staffers have been seen on Twitter directly responding to queries on a new NASCAR game, with one saying yesterday that, "If it is a NASCAR game, then we would haves a good selection of paint schemes per driver."
The same developer also confirmed yesterday that, "An announcement is being made soon about our plans."
Both Activision and Eutechnyx's UK PR agency would offer only "no comment" on the phone this afternoon.
Daytona 500
Acivision was first pegged as the game's publisher by this post on the EA Sports forum.
"The next NASCAR game will be made by Activision and will be available on PS3, Xbox 360, and Wii," said the anonymous author.
"The release date will be two weeks before the 2011 Daytona 500. That is all that I currently know."
Next year's Daytona 500 takes place on February 20.
Rumour has pointed to a Eutechnyx NASCAR game since the firm hired EA Sports long-timer Ed Martin in March this year.
Martin headed up EA's NASCAR efforts for four years.
The news will thrill NASCAR fans. EA Sports published the last major game based on the US racing IP - NASCAR 09, developed by EA Tiburon - in June 2008.
EA Sports boss Peter Moore confirmed late last year that negotiations with NASCAR has stalled.
"There are no plans right now for NASCAR from EA," he said in a Gamespot interview.
"We had a great relationship over the years that I thoroughly enjoyed when I first got here. Unfortunately…we had to make some tough trade-offs.
"We've had to redeploy some of those folks. A number of the NASCAR team has moved over now to EA Sports MMA, which will be shipping next year. [We're] still a huge fan of NASCAR, but no plans right now to develop any further games for NASCAR from EA Sports."
Moore's comments at the time represented a shift in position from April 2009, when he told VG247 that, "NASCAR and ourselves are in negotiations about where we go from here."
NASCAR's next representation in a game will come with GT5 in November.