Activision Blizzard suddenly lays off several Hearthstone staff in "organizational changes"
Announced via affected workers on LinkedIn, it seems another waves of layoffs have hit the company.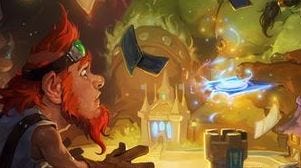 Activision Blizzard has quietly laid off several staff from its Hearthstone team, in what the company has called "organizational changes". This has left former staff - one of which was close to 20 years at the company - looking for work.
The first signs of this news came from LinkedIn, where colleagues and onlookings discovered Hearthstone staff - including software engineer Hunter C and senior producer Joe Belousek - announcing their sudden departures from the company.
Activision Blizzard has responded officially in a statement to Kotaku senior reporter Ethan Gach. The company states: "Organizational changes were made to the Hearthstone team; as a result a small number of roles have become redundant. We want to thank these employees for their many contributions." Gach also claims that sources have told him that a total of 10 employees have been affected.
Additional hints on the situation can be seen back on LinkedIn, from the aforementioned laid off employees. Hunter C, responding to well wishes from industry peers, has stated that "I know I'm not the only one being hit". In addition, Hunter C responded to one commenter that the news was "completely expected" on his end, in spite of his knowledge on how well Hearthstone was doing: "To the best of my knowledge, Hearthstone was doing well; they had just recently shown off how well we were doing in a team meeting." Only this month, a new Twist game mode was just released.
This is not the first wave of layoffs to hit the company by any means. Only a few months ago, the company fired many in its esports department. Even as early as two weeks ago, the company laid off the director of quality assurance.
This ongoing onslaught on layoffs comes as Activision Blizzard seems primed to be acquired by Microsoft for $68.7 billion. Only recently, the deal was approved by the UK's Competition and Markets Authority (CMA), as long as streaming rights for Activision Blizzard games are given to Ubisoft. Ubisoft CEO Yves Guillemot only a month prior stated he thoughth the acquisition was "good news".