Warframe Nightwave: Intermission gives Tenno another chance at missed Series 1 rewards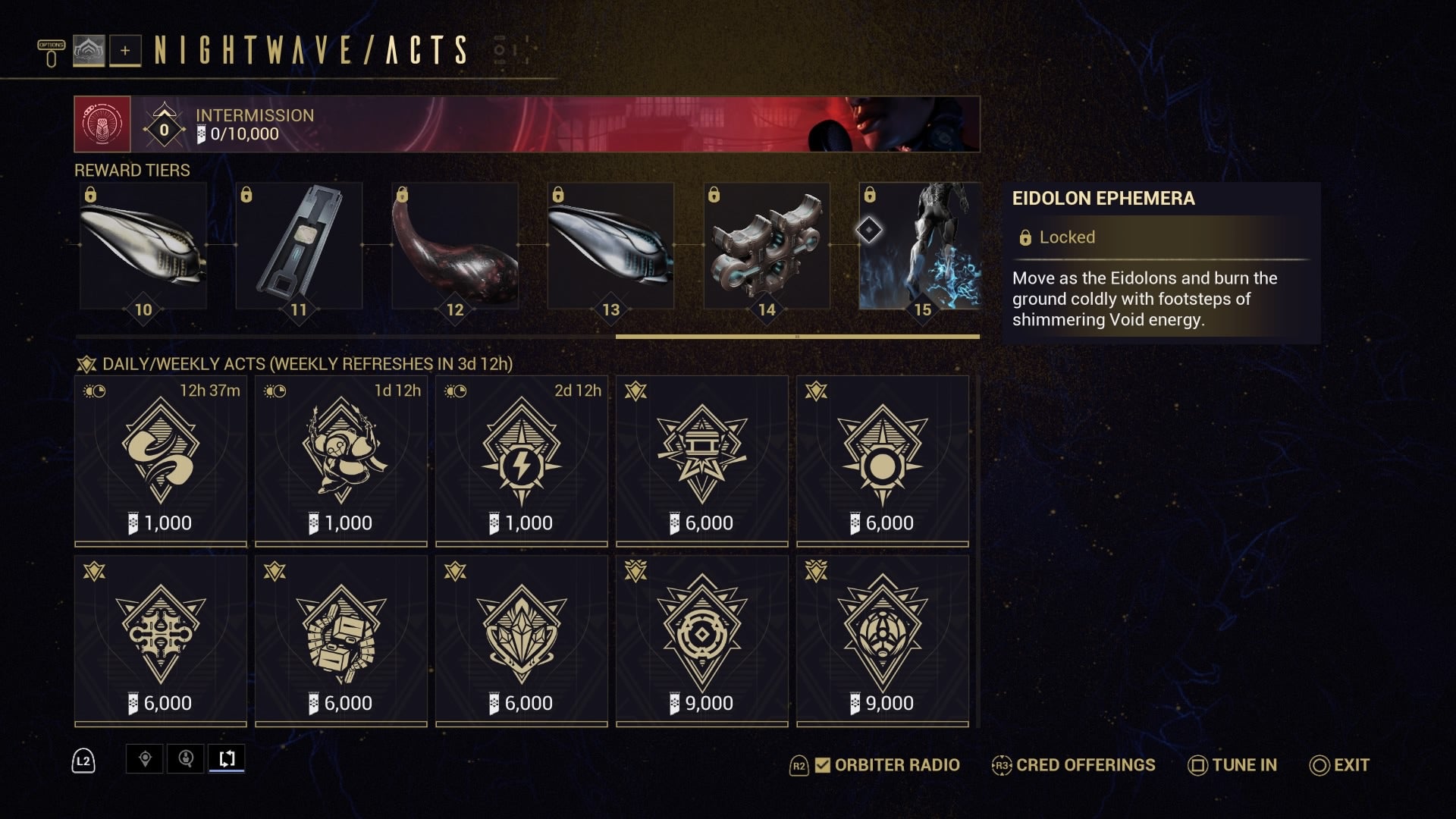 Before the start of Nightwave: Series 2, Digital Extremes has introduced Nightwave: Intermission to Warframe - an "interim gap" where players will have the chance to earn loot they missed during Series 1.
The Nightwave: Intermission event is available now for a "limited time". While the official announcement doesn't say exactly how limited of a time, Series 2 is expected to arrive before TennoCon 2019, which starts on July 6.
There are 15 ranks to work through, with the ultimate prize being the Eidolon Ephemera cosmetic.
Here are the Rank Rewards that you can earn:
100 Nora Creds
2000 Endo
Robotic Slots
3 Orokin Cells
Gamma Color Picker
50 Nora Creds
10K Kuva
Rift Sigil
3 Forma Bundle
Orokin Reactor
50 Nora Creds
10K Kuva
Orokin Catalyst
Aura Forma
Eidolon Ephemera (not exclusive to this rewards table)
To get your hands on the sweet, sweet loot, simply log in and complete the special Acts.
Acts are a series of daily, weekly, and elite weekly challenges that you complete through normal play. They can range from actions as simple as playing an emote to collecting rare items or completing tough missions in a certain way.
Along with the second chance at rewards, Digital Extremes has added a ton of quality-of-life improvements to the event.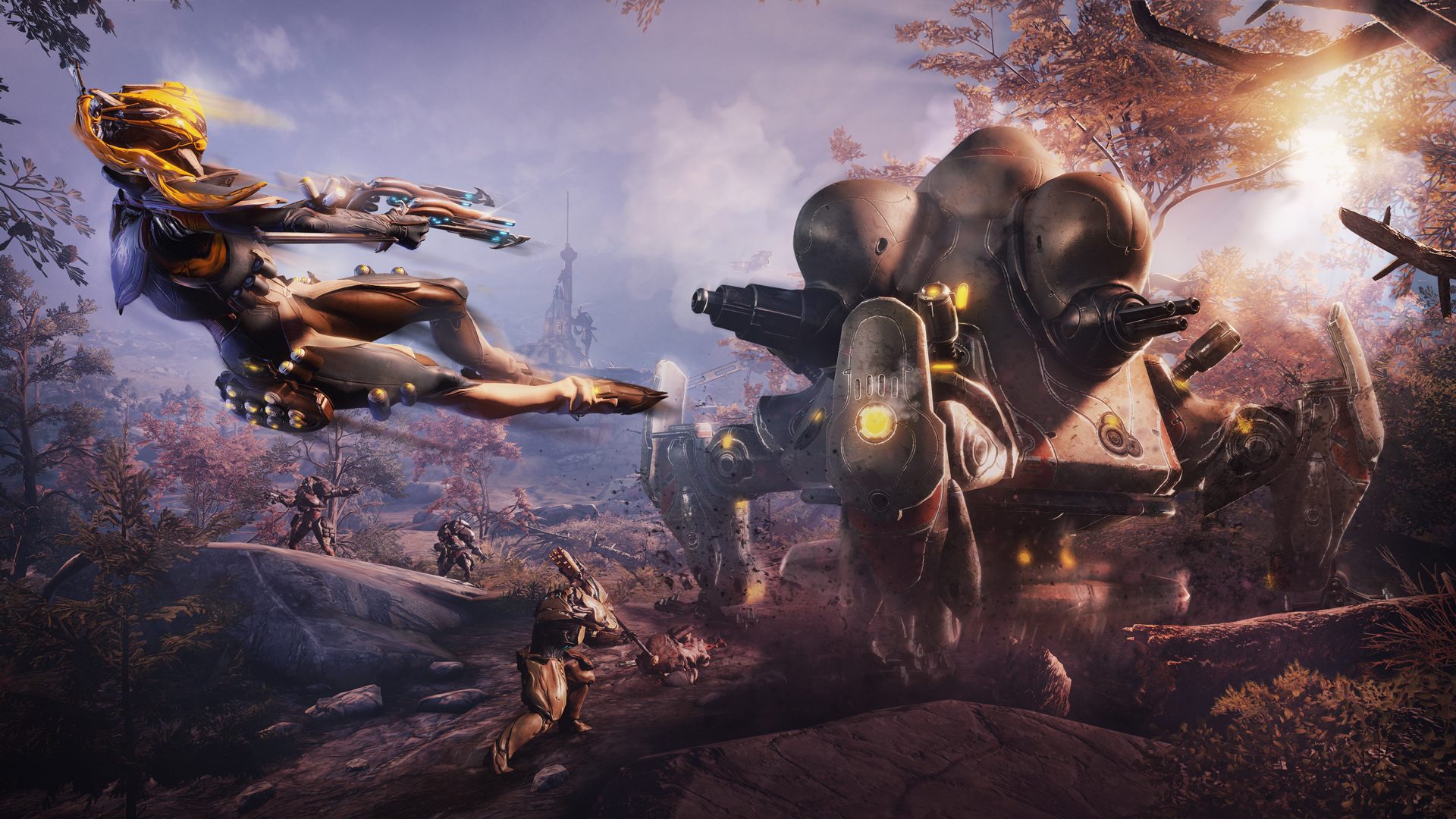 Now when you've completed all of your weekly and elite weekly Acts, you'll be able to play and complete an additional Act that you missed from a previous week. Once you've caught up, this option will no longer appear.
Secondly, DE has increased the rewards that you receive for completing Acts while reducing their number to five weekly Acts and two elite weekly Acts. This is to reduce the amount of grinding players will have to do in a short time.
The requirements for tons of specific Acts have been lowered too, even further decreasing the grind. These include the timers for survival Acts, as well as making it easier to complete Acts on your own with the needs of friends' help.
The full list of changes is as follows:
With Clanmates / Friends' Act requirements have been removed completely
Increased Nightwave Standing from Weekly Acts from 3k to 4.5k and Elite Weekly Acts from 5k to 7k.
Reduced required Defense Wave Acts from 40 to 20 Waves.
 "Kill Profit Taker with Friends" Act is now just "Kill Profit Taker".
Changed 'Complete 5 Sorties' Elite Weekly to 'Complete 3 Sorties'.
Complete any '60 minute Survival' Act reduced to 30 minutes.
Ayatan Socket requirement for Acts lowered from 5 to 3.
'10 perfect Conservations' reduced to '6 different perfect Conservations'.
'10 Bounties' reduced to '5 different Bounties'.
Increased the Sanctuary Onslaught Acts from 3 rounds to 8 rounds.
Removed the 'Sortie with Friends' Act.
The 'Hold Your Breath' Act has been changed to 'Survive over 30 minutes in a Kuva Survival'.