US PS Movie Store gets Shaun of the Dead, Transporter 3, Blue Harvest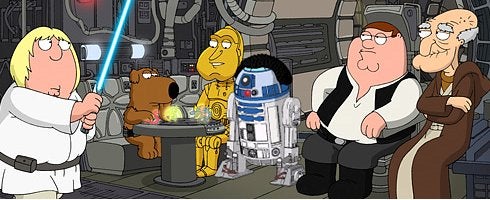 Transporter 3 debuted on the US PS Movie Store this week, just as promised, along with new additions Shaun of the Dead, Rachel Getting Married (for your girl) and Ground Hog Day.
Loads more of HD, regular movie format and TV shows per usual.
Most notable shows added are Breaking Bad: Season One and Family Guy Presents: Blue Harvest -- a homage to the 30th anniversary of Star Wars.
Get the full update through the link.
After the break is the list of top downloads for last week.
Top Movies
Australia
Pineapple Express
Religulous
Role Models (Unrated)
Body Of Lies
College (Unrated)
W.
Wonder Woman
Hulk Vs.
Eagle Eye
Top HD Movies
Australia
Body Of Lies
Pineapple Express
Religulous
Eagle Eye
W.
Wonder Woman
College (Unrated)
Hulk Vs.
My Best Friend's Girl (Unrated)
Top TV Episodes
Rob Dyrdek's Fantasy Factory | Season 1 "Blob, Super Blob"
MTV's Nitro Circus | Season 1 "Launch Special"
The CollegeHumor Show | Season 1 "Rival Site"
How's Your News? | Season 1 "Los Angeles, CA"
Family Guy | Season 7 "Family Gay"
Family Guy | Season 7 "Oceans 3 1/2″
MTV's Nitro Circus | Season 1 "Hell Compound"
Rob Dyrdek's Fantasy Factory | Season 1 "Hotel, Motel…Robbie's Inn"
Rob Dyrdek's Fantasy Factory | Season 1 "Bangin' on Fools"
Dollhouse | Season 1 "Gray Hour"
Top HD TV Episodes
24 | Season 7 "Day 7: 7:00PM - 8:00PM"
24 | Season 7 "Day 7: 6:00PM - 7:00PM"
Dollhouse | Season 1 "Ghost"
Dollhouse | Season 1 "Gray Hour"
24 | Season 7 "Day 7: 8:00PM - 9:00PM"
Lie To Me | Season 1 "Pilot"
Lie To Me | Season 1 "Unchained"
Dollhouse | Season 1 "Stage Fright"
Dollhouse | Season 1 "The Target"
Burn Notice | Season 2 "Lesser Evil"