Sucker Punch tells PTOM choice will come into play once more in InFamous 2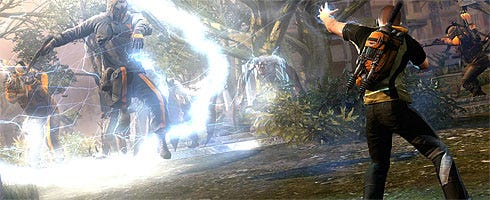 Infamous 2's director, Nate Fox, along with the game's art director Mathias Lorenz , dished quite a few nuggets of information on the game to PlayStation: The Official Magazine in its latest issue, and something you may be interested in hearing, is that your choices will have a profound impact on the end game.
According to the article, via IGN, InFamous 2 will contain the same good vs evil choice system as the first game, and while your save from the original InFamous somehow affects how the second plays out - one single choice in InFamous 2 will "lead the player down drastically a different road towards the end of the game".
While Sucker Punch didn't go into detail as to whether or not there will be other drastic choice options such as this, it's beginning to sound as if multiple playthroughs may be in order so you can experience both sides of the coin, just like the first game.
The InFamous 2 feature also includes the following old and new information: a map showing six areas of New Marais; the electrical prod weapon shown in trailers now has a name - "The Amp", the two groups of baddies controlling New Marais are The Militia and the Corrupted; a previously unknown character named Dr. Sebastian Wolfe, a co-creator of the Ray Sphere which gave Cole his electrifying powers, will be unleashing items called Blast Cores around New Marais, which will give Cole new powers; Blast Shards are making a return.
You can check out the full feature in the Holiday issue of PlayStation: The Official Magazine.
InFamous 2is out in 2011 for PS3.