Street Fighter x Tekken getting European premiere at gamescom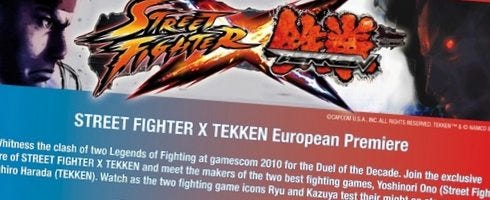 Blimey. Street Fighter x Tekken, announced last month at Comic-Con, will debut in Europe at gamescom in two weeks, Tekken producer Katsuhiro Harada has confirmed.
Harada and Street Fighter producer Yoshinori Ono will be in Cologne to show the game, according to an invite Twitpic'ed by the former.
The invite reads:
"Witness the clash of two Legends of Fighting at gamescom 2010 for the Duel of the Decade. Join the exclusive premiere of Street Fighter x Tekken and meet the makers of the two best fighting games, Yoshinori Ono (Street Fighter) and Katsuhiro Harada (Tekken). Watch as the two fighting game icons Ryu and Kazuya test their might on stage and on screen.
Namco's just press released it. Despite it being a Capcom-developed title, the former will host the event, as Capcom won't have a presence in Cologne.
The event itself takes place on the Thursday afternoon at 2pm at Konrad-Adenauer-Saal in the Koelnmesse.
"Our gathering of Street Fighter fans at the special occasion of ComiCon in San Diego was marred when Harada pathetically attempted to bribe everyone present with free copies of his games," said Ono.
"I've properly notified in advance that I will participate in the TEKKEN fan event planned for GamesCom. Since it is by invitation of the TEKKEN team, I expect Harada to have various underhanded surprises planned.
"Knowing this, I still plan to participate in the event while overcoming any obstacles he may have planned so that I can show them what a real fighting game is all about."
Harada's added: "After releasing Street Fighter III: Third Strike in 1999, Ono disappeared from the fighting game scene. Even though there were many requests for a sequel from fighting game fans, and even veteran fighting game developers like myself, Ono, Ryu, Chun Li, and crew failed to show their faces for 10 years.
"Unfortunately, we weren't able to settle things at Comi-Con but I'll face him again this time in Europe – at Cologne! Blows are exchanged in place of civilities – that's how it's done at the Mishima Zaibatsu."
Bring it, innit.
Street Fighter x Tekken will be coming to PS3 and 360, although isn't due by 2012 at least. After its release, Namco will release Tekken x Street Fighter in its 3D style.