Star Citizen hosted a $275 dinner for its highest paying subscribers to announce a very expensive ship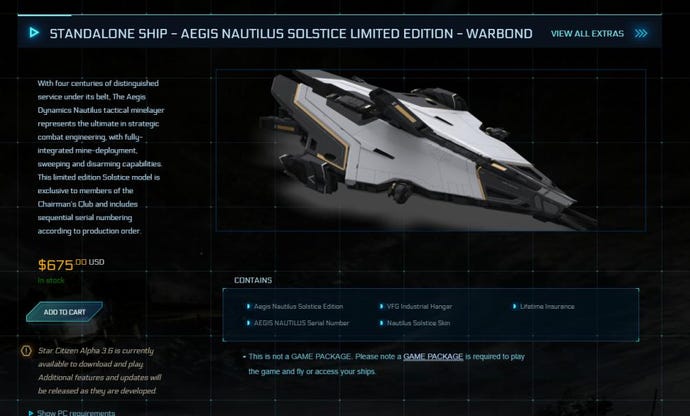 Star Citizen, the seemingly upcoming space sim that has been funded by enormous player investments, just found a way to get a lot more money from its fans.
A post on Resetera has detailed an extravagent dinner held for Star Citizen donors who have backed the game to the tune of at least $1000 (credit to member 'Noodle' for the thread and the images below - we're denied access to the pages on the game's official website that detail the event, having never thrown money at Star Citizen).
The 'Aegis VIP Event', which cost $274.73 to attend, and took place at Depot 1899 in Frankfurt, Germany. It included a QQ&A with Chris Roberts and other developers from the team, as well as a "special Aegis Announcement."
The announcement, as it turns out, was another ship that players were able to pre-purchase and eventually use in Star Citizen, a game that has, reportedly, burned through a lot of the money it has brought in already. The Aegis Nautilus Solstice Limited Edition - Warbond, which comes with lifetime insurance and a VFG Industrial Hanger, is a 'tactical minelayer' that is able to deploy mines, but also sweep for and destroy them. It's offered to members of the Chairman's Club for a cool $675.
Star Citizen is still in alpha. The ship isn't yet available to play with, even if you buy it - in fact, minelaying isn't actually a part of the game yet, and it's not possible to form a crew large enough to operate a ship like this. But, if you so wish, you can lay down $675 and eventually, theoretically, own this ship.
Star Citizen's full release still seems to be a long way away. Its single player campaign component, Squadron 42, is scheduled for a 2020 release.