Sea of Thieves Owes Its Success to More Than Just Xbox Game Pass, Rare Says
"The number one thing that contributed to [Rare's] success was streaming and content creators."

This article first appeared on USgamer, a partner publication of VG247. Some content, such as this article, has been migrated to VG247 for posterity after USgamer's closure - but it has not been edited or further vetted by the VG247 team.
Rare found a hit on its hands with Sea of Thieves, a live-service adventure game where players explore the seven seas as jolly pirates. While the launch of Sea of Thieves was notable for being Rare's first new IP launch in years, the release was also a big coming out for Xbox Game Pass, the debut of Microsoft allowing subscribers day one access to Xbox first party games like Sea of Thieves for $9.99 a month.
So when Sea of Thieves became a hit, it was interesting to see how Game Pass may have contributed to Sea of Thieves' success. But according to Rare producer Joe Neate, the real driver of players to Sea of Thieves was another in-house Microsoft app: Mixer, along with streaming services in general.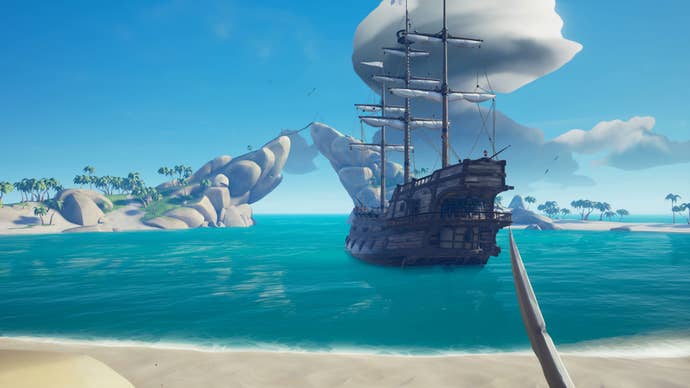 "I think [Game Pass] was part of the success. We beat all of our sales numbers that we had planned. We literally—I won't go into what specifically our sales numbers were because that's confidential—but [...] we had a target to hit by the end of June, which we hit in day one of sales," Neate tells us. "It was fascinating because we were the first [Xbox first-party offered day one on Game Pass]. And, like, for the most part you kind of never want to be the first. You want to learn from someone else on things like that."
However according to Neate, "The number one thing that contributed to [Rare's] success was streaming and content creators, like above all else." Breaking down some stats, Neate explains that, "You could see it almost just in terms of when people were streaming, the number of streamers, the number of people viewing and all that stuff correlated to our playerbase."
One of the big indicators that streaming, not Game Pass, was getting people interested in Sea of Thieves was a closed beta Rare had for Sea of Thieves. To join, players needed to pre-order the game from Microsoft, and even then the game was under a strict NDA. But when Rare lifted that NDA and players began streaming Sea of Thieves in closed beta, pre-orders for the game jumped.
"We thought this would be a barrier to people coming into the closed beta because we wanted to maintain the numbers and tests and then suddenly we got loads more people in during it. [...] So yeah, of all the things it was that."
Sea of Thieves and Game Pass did make for a good partnership for both platforms. Neate reveals that Rare had a high conversion rate for people because of the free 10-day trial for Game Pass. "We saw really high conversion of people who came in, played Sea of Thieves, and then either bought the game or signed up to Game Pass," Neate says.
We will have a full interview with Neate and Rare senior designer Shelley Preston later today focusing on Sea of Thieves and Xbox Game Pass. But with next-gen consoles looming, it's good to get insight from a first-party studio keyed into Microsoft's process about the next Xbox hardware. For more, check out our recap of Microsoft's E3 2018 press conference and our full E3 guide.