Scott Pilgrim's creator wants you to treat the Netflix anime as its own thing: "It's just a new iteration"
"It comments on the book and the movie, but it isn't meant to replace them."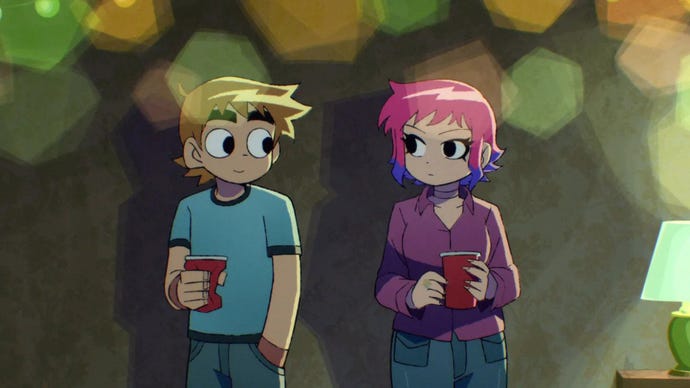 Scott Pilgrim creator Bryan Lee O'Malley has shared some of his thoughts in response to fan's feelings on the anime's changes.
If you weren't aware, Scott Pilgrim Takes Off, Netflix's anime adaptation of the modern classic comic book, is a bit different from its source material. I won't get into spoilers, but safe to say it's taken enough of a turn to get some fans upset that they aren't just getting a straight up adaptation of the comic. So over on Instagram, O'Malley clarified some details about the production of the anime, in an attempt to make it clear that it's "its own thing."
O'Malley shared these details in an Instagram story post, shared on the Scott Pilgrim subreddit, where he wrote, "I personally wrote every script with [BenDavid Grabinski]. I constantly rewrote dialogue to make it 'feel like Scott Pilgrim,' but I couldn't have written it without BenDavid. Also, nobody told us what to do - this was 100% our idea." The comic creator then went on to explain that he thinks "the anime timeline is its own thing. It comments on the book and the movie, but it isn't meant to replace them. It's just a new iteration that starts at the beginning again."
He then went on to note that he hopes you can "watch all eight episodes before you decide how you feel," acknowledging that the series is "pretty different," but "it's all intended in a spirit of fun. If you're confused or want more information, you can always read the books or watch the movie." And to be clear, O'Malley also said, "if you don't like it, I still appreciate you," so don't feel too bad if it wasn't for you.
As well as that O'Malley shared that the English dialogue was the first to be recorded, with all other languages being dubbed later - obviously it being an anime, there is a Japanese cast, which even happens to feature a JoJo's Bizarre Adventure icon.