Netflix's Scott Pilgrim Takes Off Japanese cast features a JoJo's Bizarre Adventure icon
As well as some other familiar voices.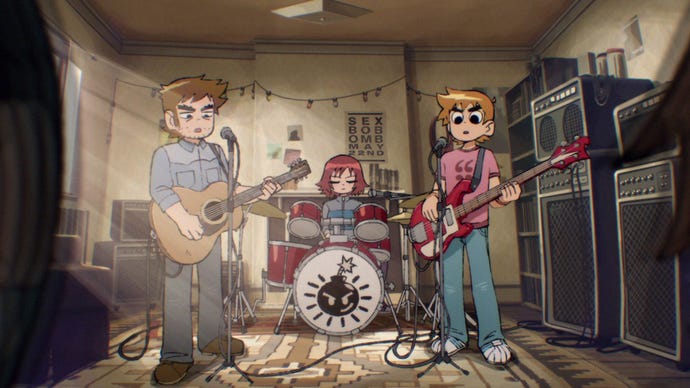 Now that the Scott Pilgrim anime is out, we finally have the full cast list for the Japanese dub, and it's filled with some iconic voices.
Scott Pilgrim Takes Off finally arrived on Netflix this Friday, November 17, with one of the most notable aspects about it being the fact that the entire live action cast returned to reprise their roles in the series. Sure, all of them are more than a decade older now, and you can hear that in places, but everyone's done a great job. Importantly though, it is an anime, so of course there's a Japanese dub. If you watch all the big anime out there you'll definitely recognise some voices; for one, Hiro Shimono plays the titular Scott Pilgrim, who you'll probably best know as Zenitsu from Demon Slayer and Dabi from My Hero Academia.
Ramona Flowers also received an incredibly good casting choice, as she's being played by Fairouz Ai, a relatively new voice actor who made a name for herself in 2021 by playing Jolyne Cujoh, the sixth season of JoJo's Bizarre Adventure's new JoJo - you'll also recognise her from last year's Chainsaw Man where she played Power. Jujutsu Kaisen fans might also be happy to hear that Gojo Satoru voice actor Yuichi Nakamura portrays Lucas Lee, originally played by Chris Evans. I mention that is Nakamura actually dubs Captain America in the Marvel films, so clearly they're continuing the tradition of him being Evans' Japanese voice.
You can check out the full cast list in the Japanese trailer above!
If you were interested in how director of the original film Edgar Wright managed to get the entire cast to come back for the anime, apparently all it took was a single email. If you've not got enough Scott Pilgrim in your life, then you can also look forward to the 20th anniversary box set that's due out next year.