Rocksmith+ is a musical education subscription service for consoles and PC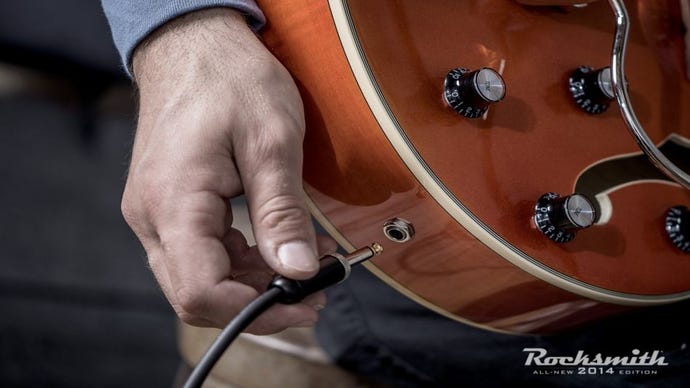 UPDATE: Ubisoft has officially announced Rocksmith+. The game will be able to leverage your mobile phone as a microphone to pick up your guitar and bass-playing in real-time.
It's a subscription service that will add new songs and features as time goes on; your subscription will give you access to 'more music than ever before', including many sub-genres, too.
The game boasts 'more robust progress monitoring' that looks at your techniques across the board, rather than just tracking your mastery of any given single song.
"Learn to play acoustic, electric, or bass guitar with Rocksmith+, the only subscription service that offers interactive music learning using official song masters and personalized real-time feedback," says the trailer description. "Rocksmith+ has been built upon the proven Rocksmith method which has helped almost 5 million people learn how to play guitar."
You can sign up for the beta here. The full game is 'coming soon'.
Original Story: Ahead of the Ubisoft Forward show later today, another of the publisher's games has leaked – a revisit of the Rocksmith series called Rocksmith+.
According to The Riff Repeater, a site dedicated to providing the latest updates surrounding Ubisoft's Real Guitar educational software, the latest Gibson email round-robin seemingly fully revealed Rocksmith+ (cheers, Eurogamer).
As per the email, Rocksmith+ is "an interactive music learning subscription service" which intends to "[take] the guesswork out of music mastery". It sounds similar to the 'game' that came before then.
If you're unfamiliar, Rocksmith was a 2011 release that basically allowed you to play a real guitar to Guitar Hero-like grids, teaching you more techniques and familiarizing you with the instrument in the process. It's a fantastic tool, and something this writer has used extensively in the past (and it really does help you learn!)
It sounds like there will be some barriers to entry with this version of the game, though. The email notes that Rocksmith+ will let you "rock out with your favorite Gibson, Epiphone, and Kramer models".
Riff Repeater will return, allowing you to pull apart sections of your favorite songs in order to master that one lick that's been giving you trouble – ideal for mastering the myriad tracks in the 'expansive' roster of songs that have been teased.
It's no surprise we're seeing this appear now; last April, Ubisoft San Francisco released its final DLC for Rocksmith and announced it moved onto a new title.
The original Rocksmith featured a total of 1,570 songs, which released over 383 weeks – here's hoping the new game sees the same kind of support.
Ahead of Ubisoft Forward (which kicks off at 12pm PT, 3pm ET, 8pm UK), we've seen a Far Cry 6 leak showing playable villains from the Far Cry series, and Mario + Rabbids Sparks of Hope was announced early, too.