Red Dead Redemption multiplayer detailed in Dutch gaming mag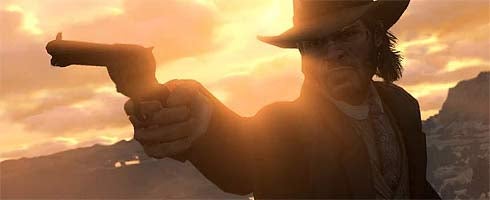 Looks like Gamer.nl Magazine has the scoop on the multiplayer mode in Red Dead Redemption, which Rockstar has promised to unveil on April 5.
According to the magazine, which has been out for about a week now, the multiplayer is without a lobby and instead starts out in free-roaming mode.
Here's a excerpt from the mag:
Read Dead Redemption has an extensive multiplayer mode. Instead of a lobby, it begins with a free-roaming multiplayer mode where players can run freely through the game world. They can form gangs with other players they meet there, and this transition can be computer controlled bandits.
Sounds awesome so far, right? Well according to the magazine, you and your gang can also do a bit of hunting or horse keeping as well.
There is also a Gold Rush mode, where it's every man for himself as players try to collect as many bags of gold as possible.
A tradition deathmatch mode and a variant of Capture the Flag will also be included.
As if we couldn't wait enough for this already, now the wait until May will be even harder.
You can get an idea of what folks think of the game so far in our previews round-up here.
Thanks, Dutch.