Pokemon's Van Gogh Pikachu Limited Edition trading card is already going for hundreds online
The merch for the collaboration quickly sold out online due to scalpers.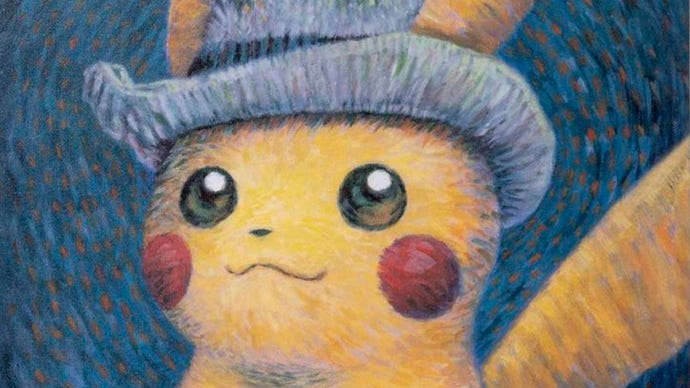 Sorry if you were hoping to pick up that limited edition Van Gogh Pikachu Pokemon card, as scalpers have done what they do best and put them up for hundreds online.
Last month, The Pokemon Company International announced that it would be collaborating with the Van Gogh Museum in Amsterdam, complete with unique merch mimicking Van Gogh's iconic style. There was even a special, limited edition Van Gogh Pikachu trading card shown off that shows Pikachu in place of Van Gogh himself, a reference to his painting Self-Portrait with Grey Felt Hat. All sounds good so far right! Except, of course, scalpers being the kind of people that they are, have already bought up all the merch that was available online for themselves. Now, if you want that card, you're going to have to fork out at least a hundred pounds, or more.
Watch on YouTube
Scalpers have quickly posted listings of the card on sites like eBay, where copies of the card are ranging from £105, to £200, to even as high as £700 for a graded edition of the card. Other merch like prints, plushies, and deck boxes are also going for way above their retail prices, making this an obviously frustrating scenario for those wanting to pick anything up from the collaboration.
The official Pokemon Twitter account did put out a statement due to all of the merch being very quickly sold out online, though didn't clarify if it plans to put in safer measures to deal with the scalpers. "We understand this is disappointing to many who were looking to our official email and social media channels for guidance on how and when to purchase," reads the statement. "We are actively working on ways to provide more 'Pikachu with Grey Felt Hat' promo cards for fans shopping at Pokémon Center in the future. Details will be released at a later date."
My advice is, keep an eye on the Pokemon social channels if you want to pick up the card, because it really isn't worth laying down hundreds of pounds for.