PlayStation Plus Classics next batch of games could include a PS1 classic
And something for the thrill seekers too.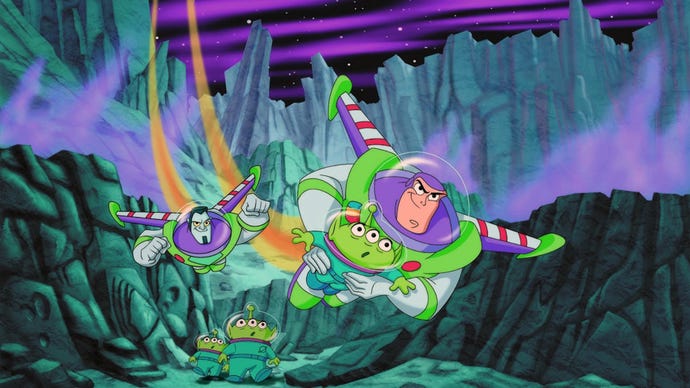 It's another day of PlayStation Plus Classic leaks, this time potentially confirming a classic PS1 game, and a couple of PSP titles.
Earlier this week, it was confirmed that Pixar's Up for the PSP, of all games, was being added to PlayStation Plus' Classics Catalogue (an inclusion that wasn't received the best by fans). News of its arrival on the service initially came from the Taiwanese rating board, which yet again has confirmed three more games that appear to be joining the collection. As spotted by Gematsu, the biggest of the three titles is easily one of my favourite games from the PS1, Buzz Lightyear of Star Command.
Now, to be fair, it has been a long while since I've played Buzz Lightyear of Star Command, but I loved this game as a kid. It was colourful, the soundtrack was bombastic, and there were even some clips from the TV series. The perfect adaptation for a child who was ignorant towards what a good game actually is (I say this as I learn that reviews at the time of its release were, uh, pretty average, but I was four, leave me alone). You'll apparently be able to play Buzz Lightyear of Star Command on PS4 and PS5.
The other two games listed by the Taiwanese ratings board were Thrillville, and Thrillville off the Rails, specifically the PSP versions of the games. I'll be honest, I'm not sure how many people will be thrilled (sorry) at the inclusion of the Thrillvilles, though both being the PSP versions rather than the PS2 versions is the same problem that many had with Pixar's Up last week. There were also Xbox versions of both Trillvilles, which you can even play on the Xbox One and Series X/S through backward compatibility, so if you're that desperate to revisit them, that's probably your best bet.
Three more Disney games were rated for PS5/PS4 (PS Plus Classics) in Taiwan:

• Disney/Pixar Buzz Lightyear of Star Command (PS1)
• Thrillville: Off the Rails (PSP)
• Thrillville (PSP)

Disney/Pixar Up was rated the other day and then announced as part of this month's lineup. pic.twitter.com/T5TGVrgcka

— Gematsu (@gematsu) November 17, 2023