Monster Hunter Rise multiplayer - How do I join a friend's quest?
Join the hunting party!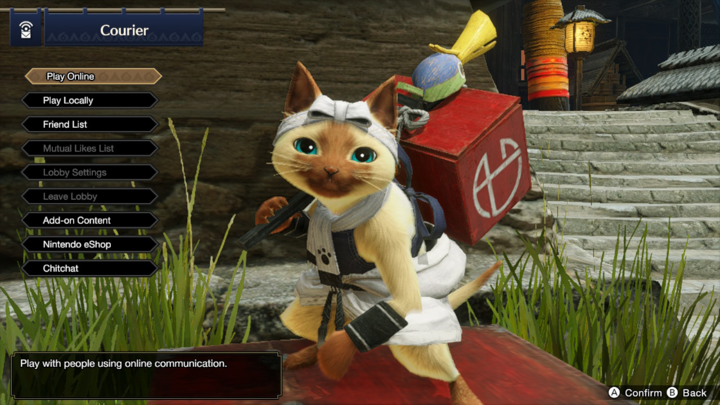 Capcom's latest monster slayer is on PC now, and if you're wanting to play Monster Hunter Rise multiplayer with friends, you'll need to jump through some hoops first. It features a multiplayer mode, but long-time fans of the series might notice that things work a little differently this time around.
Here's how to play with your friends in Monster Hunter Rise, including which quests you can complete, and how to set up a lobby.
On this page:
Which Quests can you complete in Monster Hunter Rise multiplayer?
Quests in Monster Hunter Rise come in two types:
Village Quests given by Hinoa, which are single-player only and progress you through the story.
Hub Quests given by Minoto, which can be completed in either single-player or multiplayer.
You can play Hub Quests solo but they are designed around multiplayer. They're a bit more tricky to complete than Village Quests for this reason, though they do still scale up in difficulty according to how many members are in your party.
Village Quests cannot be completed while playing in a multiplayer lobby.
How to start multiplayer in Monster Hunter Rise
By default, you always play Monster Hunter Rise in single player.
To begin multiplayer, find and speak to Senri the Mailman (the Courier). He's set up next to Hinoa, who sets Village Quests, so he's quite easy to find.
How to create a lobby in Monster Hunter Rise
When speaking to Senri, choose Play Online > Create Lobby.
You're given a number of options for setting up a lobby. You can choose to set a focus on a specific quest, for example; as well as filtering for languages, player rank, and more.
You can also toggle Passcode on or off. Lobbies with no Passcode are open for anyone to join, while a Passcode-protected lobby is effectively a private session for you and your friends.
Once you exit the conversation with Senri, everything will look the same, but you're now in your multiplayer lobby. You can send the Lobby ID and Passcode (if using) to any friends you want to have join you.
How to join an existing lobby
When speaking to Senri, choose Play Online.
You can then either:
Search by Lobby ID. This is the option to choose if you want to join friends in a lobby they've created. Just make sure your friends send you any relevant Passcodes along with the ID.
Find Lobby. This is the option to choose if you're looking to match with random players. Similar to setting up your own lobby, you can filter for certain criteria, such as which quest you're hoping to complete in this multiplayer session.
Alternatively, if you're looking to join a friend's game, you can choose Friends' List when first speaking to Senri. It'll show you any lobbies owned by people on your Friends' List, and is generally quicker than searching with the Lobby ID.
How to leave a lobby
If you want to drop out of multiplayer at any point, simply return to Senri the Mailman and choose Leave Lobby from the options list. This will return you to single-player mode.
Leaving multiplayer when you're not active in a quest shouldn't impact on the other players in the lobby. If you leave mid-quest (including due to connection errors), it seems that everyone active in the party is sent back to single-player instances of the quest, with the difficulty scaled down accordingly.
How to begin Monster Hunter Rise Hub Quests in multiplayer
Monster Hunter Rise allows you to play with up to four players in multiplayer.
To begin a multiplayer quest, once in a lobby, head to Minoto's Hub Quest board and and select a mission as normal. You can then wait for other players to join you, or begin solo and then bring other players in later via a couple of methods:
You can use Join Request to ask for back-up when playing in a multiplayer lobby. Useful if you are having difficulty completing a quest. This is open to players outside of your lobby.
Players in the same lobby can join you midway through a quest using the Hub Quest board, even if you haven't specifically requested help.
How to join an in-progress Hub Quest
You can join another player in the same lobby in their in-progress Hub Quest, so long as the quest isn't already at capacity. Interact with the Hub Quest board and select Join Hub Quest.
How to make a Join Request in Monster Hunter Rise
If you find yourself in urgent need of back-up during a quest in a multiplayer lobby, you can send a Join Request. Monster Hunter World players might recognise this as very similar to the older game's SOS Flares.
To initiate the request, open the menu and go to the Quests tab. You'll see a Join Request option at the bottom. Select it to open your quest to multiplayer and pin it to the Hub Quest board for others to respond to.
From there... await assistance and try to stay alive.
How to respond to a Join Request
When checking out the Hub Quest board, you can elect to Respond to Join Request and see who's out there asking for help in real-time. This actually has a number of benefits.
If you see a Join Request for a quest you want to complete, you can respond to it even if you're not in the lobby it originated from. This is much quicker than trawling through the Find Lobby menu to track down what you're looking for.
(However, responding to a Join Request from another lobby sends you to said lobby straight away, with no preparation time. Be sure you're ready to go before confirming your interest in joining.)
Furthermore, if the request comes from a player with a lower Hunter Rank than you, you'll receive a Helper Reward for your philanthropic deed.
Does Monster Hunter rise have crossplay?
Rise does not support crossplay for now. Capcom said they understood it was a highly sought after feature, but the team wasn't able to implement it before Rise launched on Steam "at this time." Sunbreak won't have it at launch either, though it's possible Capcom will add Rise crossplay at a later date, after Sunbreak.
For now, you'll have to play with your friends on the same platform.
For more Monster Hunter Rise help, here's our full Monster Hunter Rise guide. Check out our recommendations for the best builds and weapons, and our picks for the best Palico support types as well, so you're ready for any challenge that comes your way.