Microsoft announces Splinter Cell: Conviction Xbox 360 bundle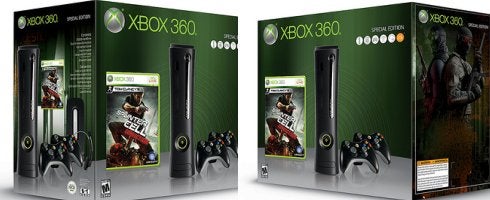 Microsoft has announced an Xbox 360 Splinter Cell Conviction Special Edition Bundle.
The bundle will be made available in North America, Europe, Australia and New Zealand for $399 in early April.
It contains a standard edition copy of Splinter Cell: Conviction, a 250Gb hard drive and 2 Wireless Controllers.
Sounds lovely, and thanks to the developmental delays it should look crackling hot upon release.
Oh, and don't worry PS3'ers - you may not be getting Conviction due to an exclusivity deal, but someday the series may pop up on the console again.
Game's out April 13 in the US, and April 16 in the UK for PC and Xbox 360.
More through The Major