Valve responds to the news that Metro Exodus will be a timed Epic Store exclusive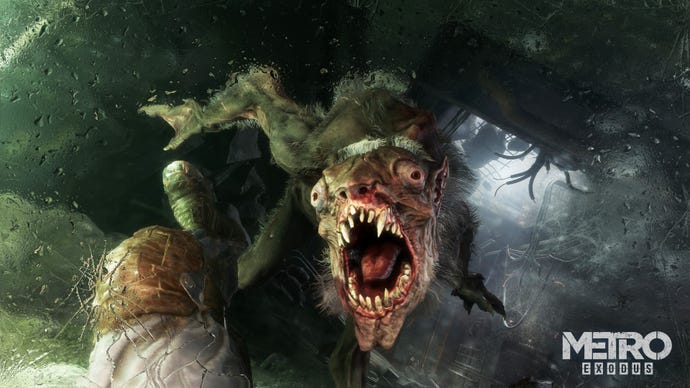 Steam pre-orders will still be honoured for the game and its DLC.
Deep Silver has announced that Metro Exodus will be a timed Epic Store exclusive and will no longer launch on Steam next month, in a move that Valve has called "unfair."
"Metro Exodus is amazing and is deservedly one of the most anticipated PC titles of 2019," said Tim Sweeney, founder and CEO of Epic. "We are partnering with Deep Silver to launch Metro Exodus, underpinned by Epic's marketing support and commitment to offering an 88% revenue split, enabling game creators to further reinvest in building great games and improving the economics of game stores for everybody."
Epic revealed its storefront last month, which gives developers a larger revenue split that Steam, taking only 12% as opposed to Valve's 30%.
"We are delighted to partner with Epic to bring the digital PC version of Metro Exodus to market," said Dr. Klemens Kundratitz, CEO at Deep Silver. "Epic's generous revenue terms are a game changer that will allow publishers to invest more into content creation, or pass on savings to the players. By teaming up with Epic we will be able to invest more into the future of Metro and our ongoing partnership with series developer 4A Games, to the benefit of our Metro fans."
Deep Silver has assured Steam customers who pre-ordered that their order will be fulfilled, along with pre-order bonuses, and any DLC included in the expansion pass through the Gold Edition of the game.
Players who pre-ordered the Standard Edition of the game will still be able to purchase the expansion pass post-launch.
It's not all bad news for Steam users. The publisher has confirmed that the release on the Epic Games Store is a timed exclusive.
"Metro Exodus will return to Steam and on other store fronts after 14 February 2020," reads a press release via PC Gamer.
Valve has responded to the news on the game's Steam page, that reiterates the content availability for pre-order customers before adding, "We think the decision to remove the game is unfair to Steam customers, especially after a long pre-sale period.
"We apologize to Steam customers that were expecting it to be available for sale through the February 15th release date, but we were only recently informed of the decision and given limited time to let everyone know."
You can pre-order the Standard and Gold Editions on the Epic Store now.