LittleBigPlanet content updates include monkeys and leprechauns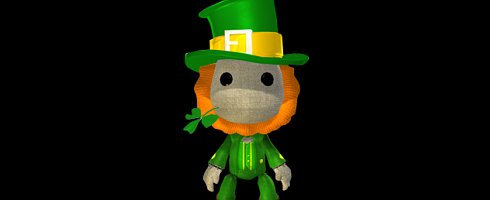 Loads of LittleBigPlanet content is coming to PlayStation Store over the coming weeks, Sony's announced.
From Killzone to Papaton to little green-suited men with a penchant for gold and shamrocks, there's bound to be something for all.
March 12 : St Patrick's Day costume -- FREE starting today (available for one week only)
March 19 : Killzone Mini-pack : $2.99/€2.99 -- Containing Sev and Helghast costumes along with 32 themed stickers
March 26 : Buzz! costume : $1.99/€1.99 -- Celebrating the European release of the latest Buzz! with the costume of the main man himself.
April 2 : Patapon costume : $1.99/€1.99 -- Costume includes a selection of weapon options.
April 9 : Heavenly Sword Mini-pack : $2.99/€2.99 --Containing costumes for both Kai and Nariko along with 27 Heavenly Sword themed stickers.
April 16 : Monkey King costume : FREE -- The costume competition winning design from Asia - the Monkey King.
The Cornish Yarg game update is progressing and news on when you can expect it will be announced soon.
Thanks, Syrok.