Leaked Call of Duty: WW2 promotional images show a franchise "going back to its roots" - rumor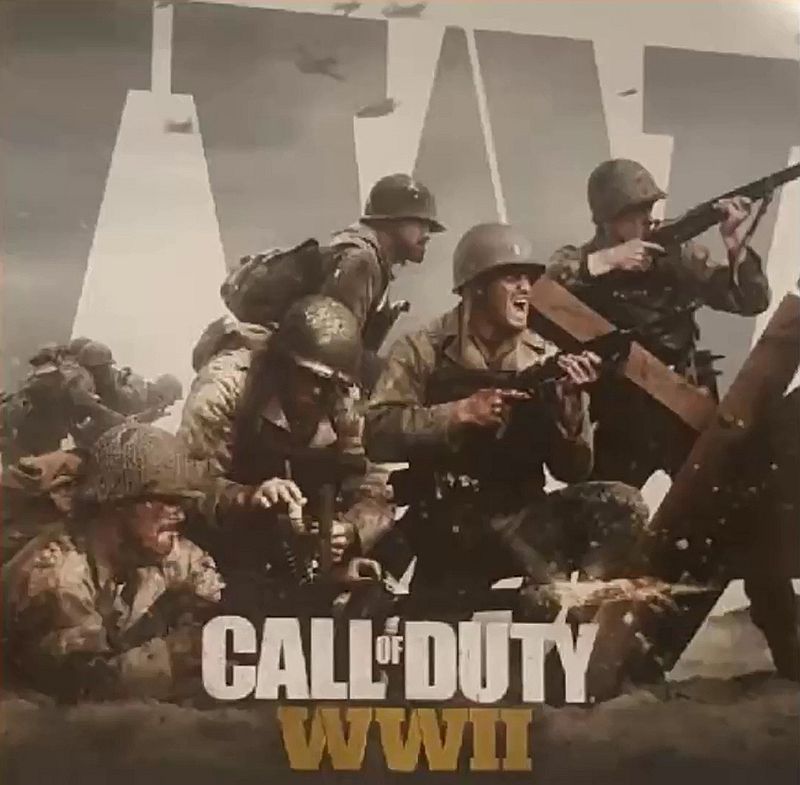 Looks like the next entry in the Call of Duty franchise will indeed take the series "back to its roots" if these leaked promotional materials for Call of Duty: WW2 are legitimate.
This year's Call of Duty game will be subtitled WW2. The leaked images were sent over to TheFamilyVideoGamers last week.
Information provided to the outlet should be taken as rumor for now, but we must point out TheFamilyVideoGamers is a respected outlet and not one to a post a rumor as large as this without warrant, as they told us earlier this week. This is one reason they sat on this information for almost an entire week before going live with it.
For one, Call of Duty isn't a franchise TheFamilyVideoGamers would normally cover. The second reason they didn't go live with it from the onset, was the person who sent the information was anonymous.
This isn't uncommon, because no one wants to lose their job over sending a leak to an outlet. The person who sent the email over said the images came from someone close to the project at Sledgehammer, which we know is working on the next Call of Duty game.
Whether the person who sent the tip works for the developer themselves, or it was indeed sent to the source by a Sledgehammer employee cannot be verified.
Now that's we've provided you some background on this rumor, let's take a look at what appears to be early promotional materials.
Posters and steel cases of the Normandy landing
The posters and steel cases you see in the video from TheFamilyVideoGamers were likely shown during a marketing meeting with retailers.
It's also possible the images came from focus group testing, where selected individuals of the public are asked for their opinion on consumer products. As someone who has participated in focus group testing in the past for products before they came to market (Tide To Go, Fazoli's, space-age maxi pads, smelly dish soap), it's not uncommon for companies to ask for a consumer's opinion on logos, branding, artwork, or general interest.
If you look at the fonts on the five cases and poster, it's the same font used on Call of Duty packaging such as Sledgehammer's Call of Duty: Advanced Warfare. Activision is also known for producing cases which feature artwork for special editions.
The first case shows aerial view of what is obviously Omaha Beach, while the second features a closeup of a solider with others in the background storming the beaches on D-Day.
There's another image of a third steelcase featuring the backs of soldiers heading towards the beach. The fourth case shows a soldier holding either a BAR or Thompson, it's a bit hard to tell. Finally, the last case has sepia coloring with a close-up of a solider on the back, and a crop of the poster image on the front.
That's a quite a large offering of game cases, which means either numerous editions are coming to market, some are retailer specific cases, or again, some are just early prototypes.
Taking the franchise "back to its roots"
In Activision's last financial report, COO Thomas Tippl said Sledgehammer's title would feature "traditional combat" as the studio is taking 2017's Call of Duty "back to its roots." The space setting for Call of Duty: Infinite Warfare "just didn't resonate" with players according to Tippl.
The first three Call of Duty titles were set during World War 2, plus, Sledgehammer co-founder Michael Condrey previously expressed interest in developing a CoD game with this setting as far back as 2014.
In November of that year, Condrey told Metro UK a "next generation game with the latest production values and robustness" in a World War 2 setting "would be amazing."
"Some of my favorite pieces of entertainment are set in World War 2. Band of Brothers, I'm a massive fan of Band of Brothers," he said. "And [World War 2] is a great hero's war, kind of the last that was recognized as a noble cause in a war.
"So yeah, I think a next generation game with the latest production values and robustness in a World War 2 setting like Band of Brothers would be amazing. Now, how would it play and how would the multiplayer work after the new movement set in Advanced Warfare? That's a tougher question than I've had to tackle yet."
PCgamesN also spoke with an inside source "ahead of the leak of this promotional art," which corroborated the title of the next Call of Duty game. Days later, Eurogamer also claims to have the title confirmed by sources.
Between comments made by both Activision and Sledgehammer along with the leaked promotional materials - again, if legitimate - it's looking more and more likely this year's Call of Duty will indeed be set during World War 2.
E3 2017 is only a couple of months away, so expect an announcement for the November title at that time, if not before.
Header image courtesy of TheFamilyGamers.