"Kick ass news" coming "very soon" from CliffyB [Update]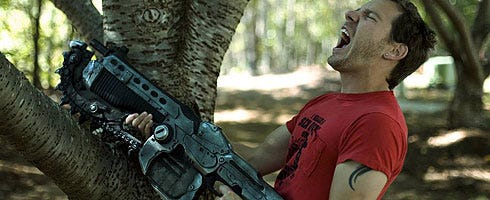 Update: Sorry to burst your balloon, but this might be what he's referring to.
Original Story: Epic Games' Lead Designer Cliff Bleszinski has tweeted some "kick ass" news" is coming very soon.
Is this the "awesome shit"?
"Kick ass news soon. VERY soon. Watch this space..."
Bleszinski said back at the start of the month that he was working on "awesome shit" which wil be revealed "when the weather's warm".
That obviously screems E3 [E3 takes place between June 15-17 - JC], but last night, Microsoft announced the return of their X event series, with X10 to be held in San Francisco on February 11.
2+2=5, etc.
So far, Epic hasn't stated what its next big project is internally since Gears of War 2 released.
Gears of War 3 was previously thought to be coming out in the next generation of consoles, according to Epic president Mike Capps.
He swiftly retracted his comments, saying if Gears 3 comes, it'll be this gen.

Shadow Complex, based on the Ender's Game novel written by Orson-Scott Card, was released last year by Epic, but was developed at Chair Entertainment.
Epic also has a project in the works from the company's Poland-based studio People Can Fly, which is currently only known as Bulletstorm, which will be published by EA.

Thanks, tLG.