CliffyB's "awesome shit" will be revealed "when the weather's warm"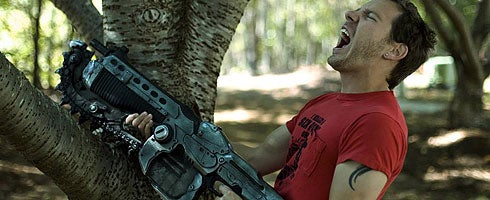 Speaking in an interview with Joystiq during the VGAs last month, Epic Games' Cliff Bleszinski has revealed he's working on some "awesome shit".
And it doesn't sound as though you're going to get to see what it is for a while yet.
When asked the obvious, Cliff said: "I can't tell you that! It's actually quite agonizing for me right now, because there's a bunch of awesome shit we're working on, but I can't say a damn thing about it no matter how many alcoholic beverages you might try and feed me."
When are we going to see it?
"Maybe sometime when the weather's warm, you'll be hearing something."
Epic's upcoming home output remains a mystery. The developer has previously blanked assumptions it's started work on Gears of War 3, saying it's currently committed to Gears 2 DLC.
Most recently, Epic boss Mike Capps caused drama at TGS 09 on the subject of ongoing Gears dev by saying another game in the series wouldn't be released in this console generation.
He quickly withdrew the remarks, saying if another Gears game was to hit in the next "four to five years," it would be for current consoles.
Gears of War 2 was released in November 2008. A third game remains unannounced.
Projects from Epic-owned external studios are a little less mirky. The US developer acquired Polish outfit People Can Fly in 2007, saying in August 2008 that the Painkiller-creator is working on a new IP to be published by EA.
Utah's Chair Entertainment, bought by Epic in 2007, said in early 2008 it had acquired rights to create a game based on Orson Scott Card's classic sci-fi novel, Ender's Game.
Chair released Shadow Complex on XBLA last August.