JPgamer: Dragons in Your Pocket
This week in our roundup of all things Japanese, we talk the Dragon Quest I-VIII iOS ports and what Idea Factory International are up to, plus news on Drakengard 3, that Dengeki Bunko fighting game and a Kickstarter that may be of interest to dating sim fans.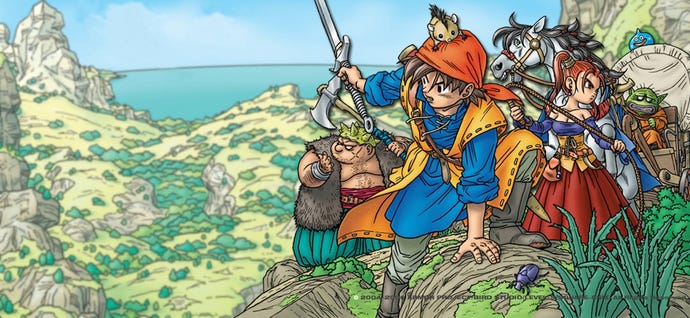 This article first appeared on USgamer, a partner publication of VG247. Some content, such as this article, has been migrated to VG247 for posterity after USgamer's closure - but it has not been edited or further vetted by the VG247 team.
Hello again, Japanese gaming fans, and welcome to JPgamer, USgamer's regular round-up of news, topics and discussion points surrounding games from our friends in the East.
This week, I wanted to start by talking a little about the recent announcement that Square Enix is bringing Dragon Quest I-VIII to mobile devices, because it's something that has sparked a fair amount of discussion around the Web -- not all of it positive.
It seems a lot of people make the immediate assumption that a mobile version of a game is going to be bad. To be fair, this is understandable to a certain degree -- a number of Japanese developers in particular have, for example, announced "new games" in beloved series such as Star Ocean only to reveal that what they were actually talking about was a mobile card battle game with little to no gameplay beyond tapping repeatedly on a "continue" button until the game asks you to pay up, at which point you either quit, wait or, well, pay up.
Equally, there are plenty of decent-quality mobile ports out there, though. Aside from the super-bland font they use, Square Enix's past ports of the Final Fantasy games to mobile platforms have been competent enough, for example, and iOS even played host to a genuinely new (and pretty good!) 2D Final Fantasy a while back in the form of Final Fantasy Dimensions -- plus all-new original titles for mobile such as the Chaos Rings series.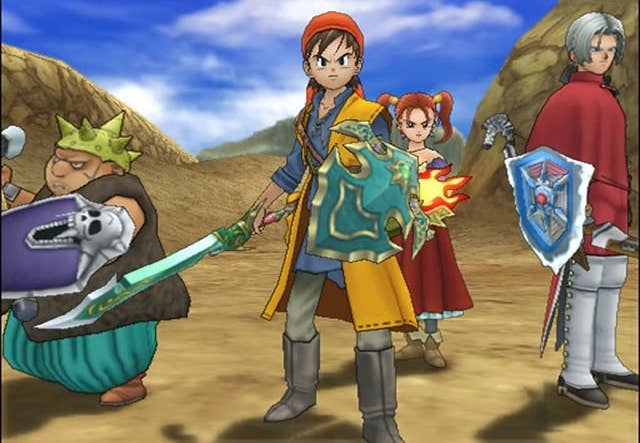 So what's the problem? Well, there's a couple, chief among which is mobile's continued reliance on touchscreen interfaces. Games built for the physical controls of consoles don't translate all that well to non-tactile virtual controls, particularly when things become a little more fast-paced. Fortunately, your average traditional role-playing game is rather more cerebral than action-packed, and in fact a touchscreen interface is eminently suited to navigating menus -- so long as the interface isn't too cluttered. Going back to Square Enix's past ports of Final Fantasy, the menus work pretty well despite their bland, amateurish appearances, and arguably allow for quicker response than when using a joypad -- important if you're playing one of the "Active Time Battle" installments of the series.
The other issue is pricing. While people are less hesitant to pay $5 and up for a game on a dedicated gaming handheld such as the 3DS and Vita, there's a certain degree of expectation from the wider public that mobile games these days should be free to download, and fans of established series worry that this may urge developers down the free-to-play path with obtrusive purchasable currency, consumable items, ads or -- perhaps worst of all -- tampering with the original game's difficulty balance in order to encourage in-app purchases. These concerns are largely unfounded where ports are concerned, fortunately, though Square Enix's past attempts to charge dedicated handheld prices for its ports on iOS have gone too far in the other direction -- they're seen as too expensive, so people don't buy them, despite the fact that, in most cases, you're paying a very reasonable price in terms of dollars-per-hour of entertainment.
So is Dragon Quest I-VIII coming to mobile a good or a bad thing? Well, that largely depends on your outlook towards mobile gaming. It will certainly mean these classic games will be available to a much larger audience than ever before, and that's a great thing, but it remains to be seen how good these ports actually are. How well will they perform? Will they have any enhancements? Will the controls be revamped in a more touch-friendly manner?
It'd be nice to see the Dragon Quest games ported to dedicated gaming devices and readily available, too -- but as someone who, to my shame, has never actually played a Dragon Quest game (like, at all -- I know, I know) I'll take "mobile rerelease" over "no rerelease." How about you?
What is Idea Factory International Up To?
Last week, you may recall we reported that Idea Factory was opening an international branch in California -- but it wasn't altogether clear what the role of the new company would be. Was it an attempt by Idea Factory to move more strongly into the West -- possibly stepping on the toes of specialist publishers and longtime partners like NIS America in the process -- or was it something else?
Speaking with Digitally Downloaded recently, Idea Factory CEO Harusato Akenaga explained the purpose of the new office as being simply "to help promote the brand and engage with the English-speaking community and fan base for Idea Factory games."
What this actually means is not that Idea Factory is going to start localizing its games itself, but instead serve as a knowledgeable marketing resource that will partner with publishers such as NIS America. Part of Akenaga's role will be to determine the viability of certain Idea Factory franchises in the West -- including those that have not previously been localized, such as Monster Monpiece.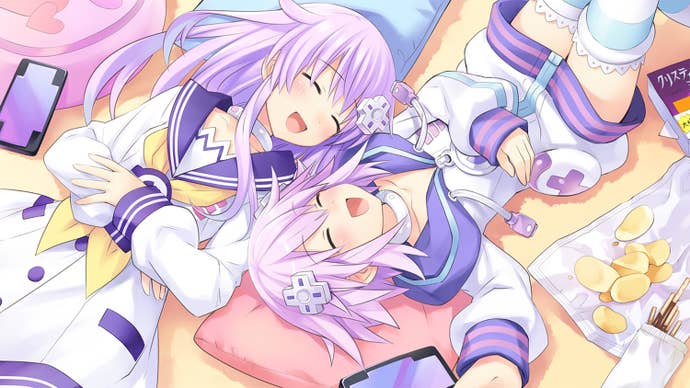 "Naturally, we'd like to listen to the voices of our North American and European fans and take their opinions and suggestions under consideration," Akenaga said. "The IF brand is a very niche one, so I do not believe it will become a 'major' brand in America and Europe. However, we know that there are plenty of fans of niche Japanese titles in these regions. What we aim to do is reach out to and communicate with these fans, and create a stable market for Idea Factory brand titles."
Akenaga pointed out that this didn't necessarily mean we'd see uncensored versions of Idea Factory titles in the West any more than we have done in the past. Mugen Souls famously had its interactive bath scenes removed rather than risk the ire of the censors, for example.
"Honestly, we wouldn't like to do any modifications or 'take out' anything from our games," he said. "I also understand that there are many fans who hope to have an uncensored/unmodified version of our titles. However, it is also true that each region of the world has a different level of acceptance and tolerance towards certain subject matter. Therefore, we will have to decide our baseline for these situations as Idea Factory International while considering ESRB/PEGI/USK rating standards." In other words, don't expect anything too racy, and definitely nothing that might push the rating up into the retail kiss of death "Adults Only" ESRB category.
Drakengard 3 is Flying West
Whether or not we'd get to play Drakengard 3 in English has been questionable for some time now, but it's official: it's coming to North America next year, says the official PlayStation blog.
Drakengard 3 is actually a prequel to the original Drakengard and is thus an ideal jumping-on point for those who have never encountered the series' past installments. Keichi Okabe, who wrote the music for Nier -- itself a spinoff of one of Drakengard's secret endings -- has composed the new game's soundtrack and, predictably, has done a rather wonderful job on it. Here's a trailer featuring some of the magnificent music, which has a very Nier vibe about it, unsurprisingly.
You'll be able to preorder Drakengard 3 soon from Square Enix's online store; it didn't seem to be available at the time of writing, but should be up soon.
My Little Sister Can't Be This Good at Fighting
Two new characters have been announced for the upcoming Dengeki Bunko Fighting Climax fighting game we reported on a couple of weeks back. Joining Sword Art Online's Asuna, Shakugan no Shana's Shana and characters from Sega's Valkyria Chronicles are Kirino Kousaka from My Little Sister Can't Be This Cute (aka Oreimo) and Misaka Mikoto from A Certain Scientific Railgun, and Kamijou from A Certain Magical Index, Leafa from Sword Art Online, Kuroneko from Oreimo and Wilhelmina from Shana will make guest appearances as support characters.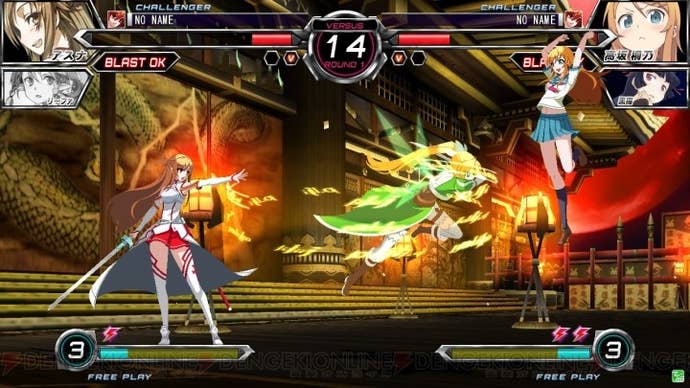 According to Siliconera, the game will make use of a four-button battle system -- three strengths of attack plus a fourth button to call your support character. Pressing combinations of buttons performs various special skills, and there's a "Climax Gauge" to allow you to store up super special moves.
And Finally...
The humble dating sim is a type of game that, while popular in Japan, has struggled to gain much traction in the West, for a variety of reasons. That hasn't stopped a number of developers from trying, however -- some companies, such as Winter Wolves, even specialize in them -- for both men and women.
A new Kickstarter project may be of some interest to those of you feeling starved of some virtual dating action. Dubbed HuniePop and heavily inspired by Japanese media such as the anime Chobits, the game professes to be a "fully featured dating sim blended with classic puzzle gameplay and enriched by deep RPG systems," and is aiming for release in December of next year.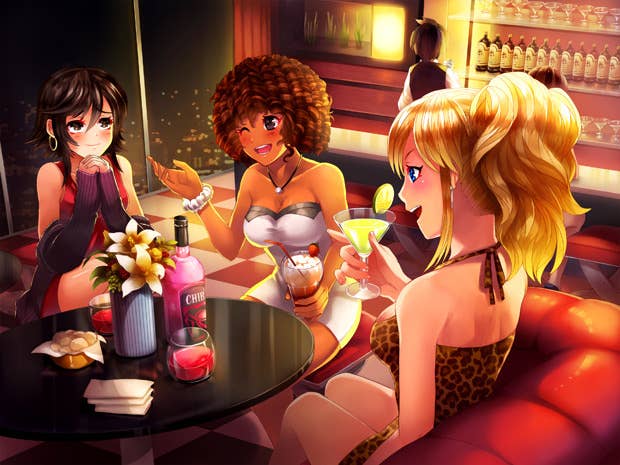 The game promises an open-ended experience where you can either pursue your favorite girl in an attempt to build a strong relationship with her, or play the field to see what happens. The core of the game will involve managing your time and resources effectively in order to fulfil your goals, but you'll have to take into account what the game's heroines enjoy, too. The puzzle gameplay enters the picture whenever you go on a date with one of the heroines -- you'll have to earn affection through matching heart tokens before the end of the date, and can unleash various special moves by collecting "talent, flirtation, romance and sexuality" tokens, much like Puzzle Quest's colored mana system. Improving your relationships with the various heroines will provide you with new skills, and equippable items will allow you to improve your abilities.
The game has been in development for about six months, and former Insomniac developer Ryan Koons notes that it's already got a fun gameplay loop and character art that's almost completely finished. The team has turned to Kickstarter to enable them to focus full-time on developing HuniePop while continuing to compensate the artists who have collaborated on the project so far.
"HuniePop is my dream game and something I do out of passion at my own expense," writes Koons on the Kickstarter page. "The incredibly talented people who help out on this game need to be compensated for their contributions and up until this point this entire project has been funded out of my pocket." Koons is seeking $20,000 in total; with 23 days to go at the time of writing, the project has already notched up 215 backers for a total of $7,120.
Find out more here.
---
That's your lot for this week, then. Has anything particularly caught your attention this week? As ever, comments and discussion are very welcome in the comments and notes, so don't be shy -- start a conversation! I'll be back at the same time next week with more news from the Far East; until then, mata ne!