Dragon Quest 11 S: Echoes of an Elusive Age review - tradition polished to near perfection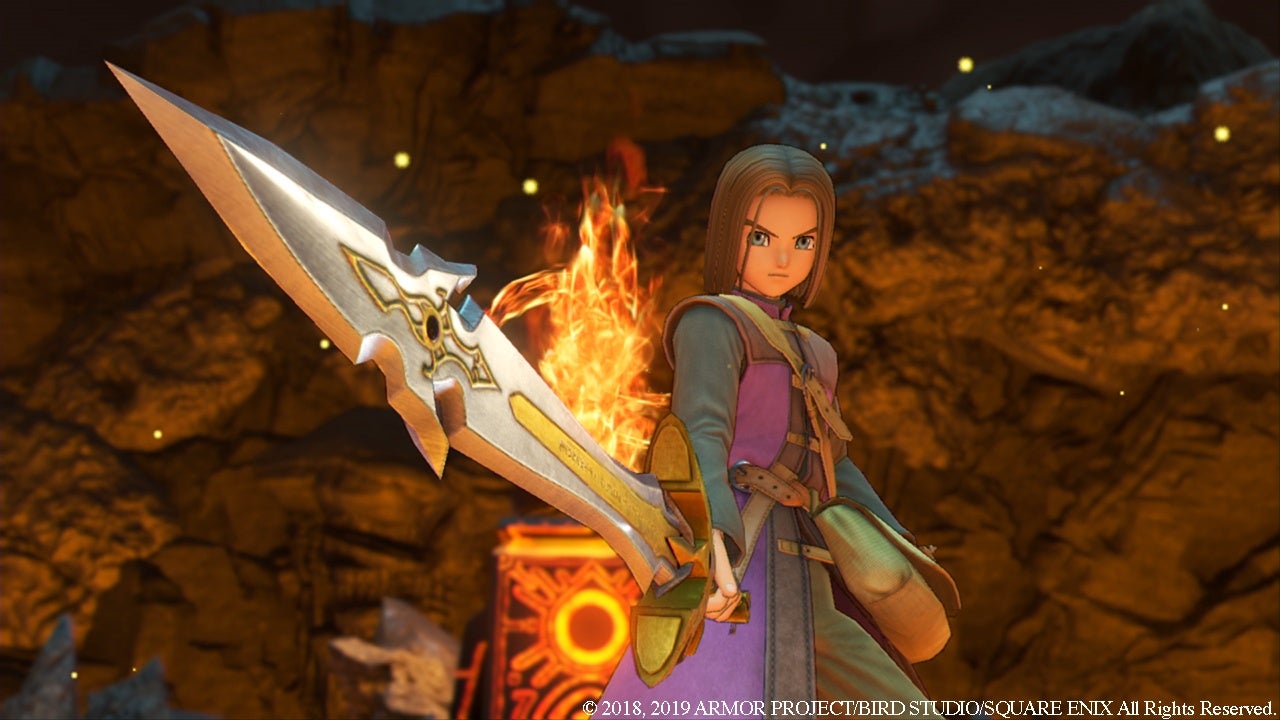 Dragon Quest 11: Echoes of an Elusive Age is staunchly traditional and arguably a little bit stuck in the past - but in this instance the absolute dedication to series tradition is an overwhelming positive, helping to deliver one of the best Japanese role-playing games of this hardware generation. And now it's on Switch.
Square Enix's two top-tier RPGs couldn't be more different. Where Final Fantasy seems to be constantly casting about for something new, exciting and fresh, even when revisiting and remaking existing games, Dragon Quest is all about tradition. Dragon Quest is safe. It's simple, and familiar. That could obviously be a recipe for disaster, but against all odds it isn't. Traditional RPG fans will sink into the world and mechanics of Dragon Quest 11, snuggling into its level-headed design like a comfortable old armchair. Newcomers, meanwhile, don't have to worry so much about the excesses and the complexities that have been piled on the genre, often in response to sprawling, endless Western-developed RPG adventures. Instead, this is something built with the energy and charm of the JRPG's Super Nintendo and PlayStation golden age in mind.
None of this is to say that Dragon Quest 11 is unambitious. It's a large game with a lot of strong ideas, something you'd expect from a series still helmed by Yuji Horii, the man who arguably set the template that'd define almost every role-playing video game out of Japan for decades. Horii still has strong ideas in relation to both new twists on his old design and keeping to tradition, and with the help of a raft of talented younger understudies the game's world has been crafted into an inviting place that's also a thrill to explore.
Battles are still turn-based, of course, but are more dynamic-looking than ever, complete with the ability to freely move characters around. This doesn't impact the actual flow of battles, but allows you to pose to look as cool as possible. Everything is driven by a familiar style of character progression and growth, but each system has been expanded and tweaked - and that expansion isn't entirely necessary to progress, but unlocks a wealth of depth if you wish to engage with it.
Characters still come from the broadest archetypes imaginable with colourful, eminently recognizable anime designs based off initial ideas from the legendary Akira Toriyama. In many ways these character designs are simple enough that they aren't any more intricate in their on-screen execution than they were even as far back as the PlayStation 2 - so instead they're merely sharper and cleaner, drawn across the world in such a stark manner that they always pop brilliantly. The world itself is perhaps where modern hardware is put best to use, where in both scale and beauty it's clear that this is one area that Dragon Quest has taken a cue from its more flashy peers.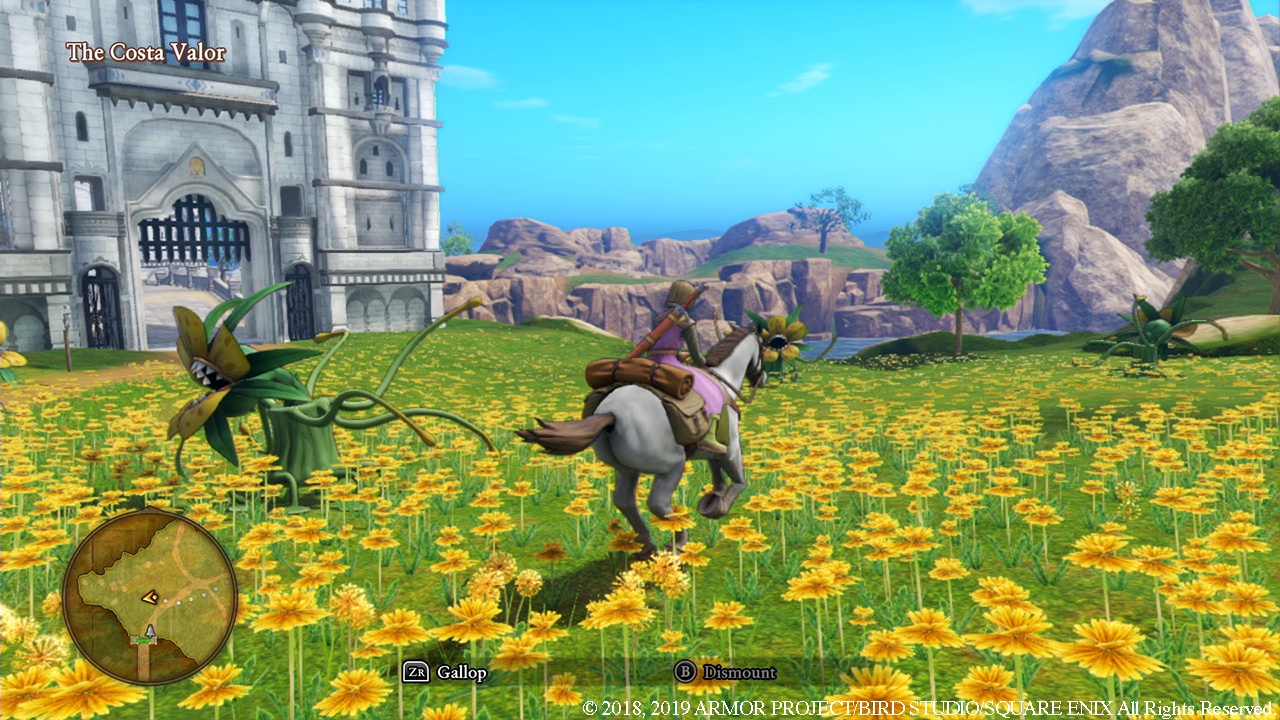 This art style means that the step from PlayStation 4 down to Nintendo Switch is a smoother one. While seeing something like DOOM or Mortal Kombat 11 run on Nintendo's portable device always feels a little like sorcery even as the games take a noticeable visual hit, it doesn't feel a surprise that Dragon Quest 11 runs and does so well - that's a testament to the art style. The resolution is lower, but the artistic flair hides it well. In handheld mode it is a particularly striking thing, but unlike many Switch games this is also perfectly at home in the dock without feeling like a jagged-edged compromise.
As a trade off for the slight performance hit, Switch owners also get some juicy new features. The most fun of these is 2D mode, something which was limited to the Japan-only Nintendo 3DS version of the original release. This essentially is the entire game and world of Dragon Quest 11, but designed as a 2D, top-down RPG in the style of 16-bit entries in the series. It feels incredibly appropriate to include the 2D-3D toggle in the Switch version of the game; in a sense, this might be the most fitting feature for this platform imaginable.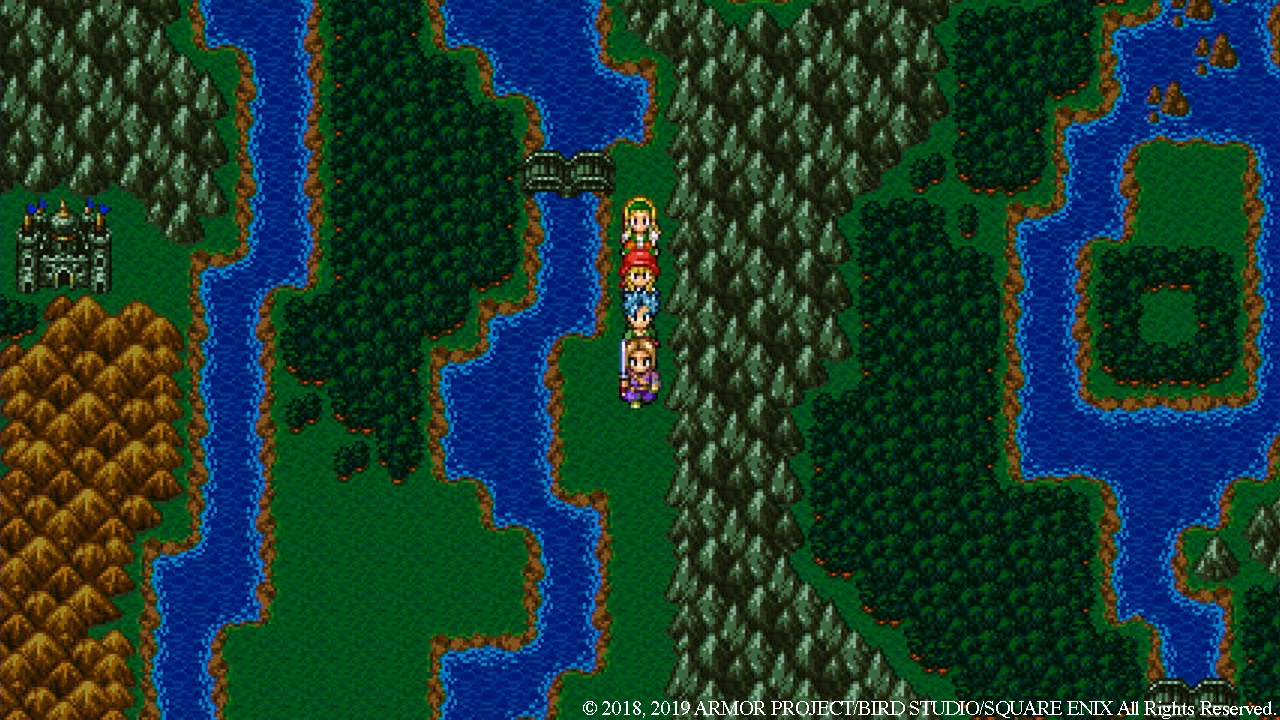 Flicking back and forth between the two is not a seamless thing, sadly - you can do it at more or less any time, but it'll always push you to the back of the current chapter while retaining character progression progress. This is understandable; the fact that this entire world exists in both styles in the first place is remarkable. You can play the entire game in 2D if you want, or likewise ignore this new feature. Or, like me, you can spend the game gleefully using both in order to examine how huge 3D areas and specific landmarks have been represented in the 2D version.
There's a range of quality-of-life improvements too, including crucial ones that allow the more confident player to up the pace of the adventure across the board. Also new here are a range of additional character side-stories that flesh out each of the main players in the narrative, new options for the fun and often silly Draconian Mode quest, a fully orchestrated soundtrack, plus both English and Japanese voice-overs. Cruelly, and in a coup for Nintendo, it sounds like the PC and PS4 releases won't get this definitive release or any of these additions as DLC. Regardless, this Switch release absolutely earns the definitive title it bears in its name - it is the best and boldest version of the game, polished in a way that shows both intelligence and restraint, every addition serving to better surface and display what made the original release special. Put simply, with the definitive edition tweaks it is a better game.
Dragon Quest 11 doesn't reinvent the wheel, but nor does it need to. It's Dragon Quest, and its eleventh entry is a carefully cultivated recreation of everything that made it great in 1986, or in 1990, or in 2004, or any other year one of these games released. In this game you can see why the series was so seminal: exactly how Final Fantasy, Lufia, Breath of Fire, Pokemon and so many more were all built atop these mighty foundations is plain. Said design foundations are also clearly as strong as ever. Dragon Quest 11 has its flaws, and it may ultimately function as a breezy trip down memory lane for the experienced and a fabulous gateway experience for the uninitiated, but that is exactly what it sets out to be. At that, it is perfect.