Jedi Fallen Order, Fallout 76, and Axiom Verge 2 are out on PlayStation Plus Essential right now!
The January games for PS Plus Essential are sure to kick off the new year with a bang.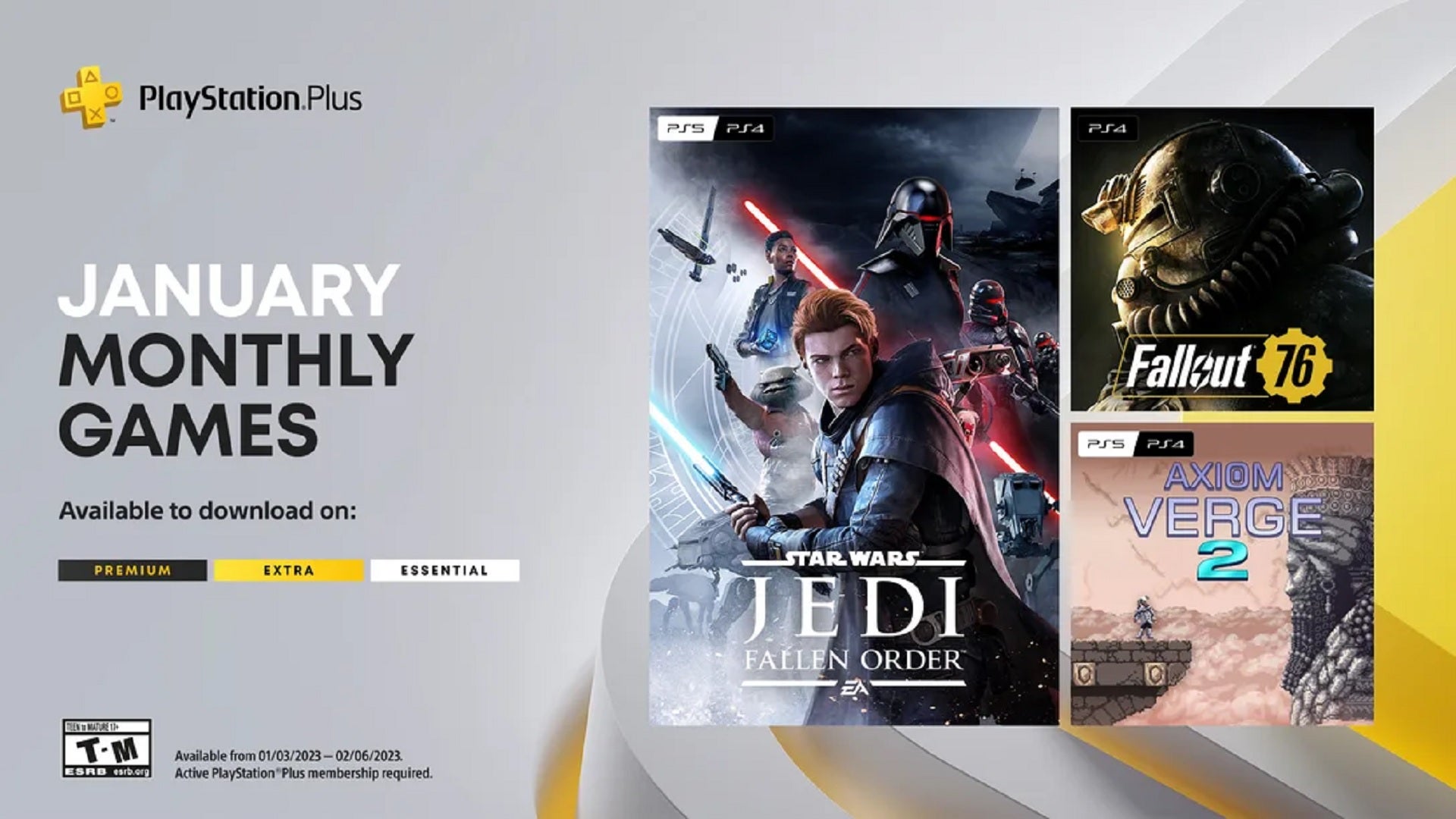 PlayStation Plus Essential subscribers have a nice gift ready for them to kick off the new year, as Jedi: fallen Order, Fallout 76, and Axiom Verge 2 are all available to download as part of the January PS Plus line-up right now.
For those with any variety of PS Plus, whether it's PS Plus Essential, Extra or Premium, these three games are up for grabs starting January 3. However, if you have either an Extra or Premium subscription, you're due additional goodies in January that have yet to be announced.
All three games available this month are killer in their own way, but the immediate star of the line-up is Jedi: Fallen Order. This 3rd person action RPG was quite the surprise for many when it first released back in 2019. A brand new story set in the Star Wars Universe, it mixed an exciting combat system with compelling characters and a slice of the beloved Star Wars Sci-fi galaxy to explore around with some distinct planets. It's an overall good package, and one well worth trying out yourself as the sequel inches closer and closer to release.
There's also Axoim Verge 2, a Metroidvania created by a single developer and released to wide acclaim back in 2021. Another Sci Fi title, this time you're in the shoes of .Indra Chaudhari following a message urging her to venture to Antarctica in order to find her missing daughter. From there, adventure ensues, in a charming cocktail of Metroid, Bionic Commando, and other Metroidvania hallmarks.
Finally, there's Fallout 76. While this game released in poor form, it's improved considerably since its rocky launch back in 2018, with numerous bug fixed and major content updates to iron out the issues and fill in the glaring absences that fans of the franchise were missing. As an online MMO set in the legendary post-apocalyptic world that we've been diving into for decades now, it offers something genuinely unique from the rest of the series if you've got the taste for it. Costing nothing this month, it's well worth a try. If John Carpenter likes it, how bad can it be?
All in all it's a great month to kick 2023 off, with all three games being worth a download if you've not touched them yet. Especially if you're killing time until some of the bigger releases planned for later in the month, you can really lose yourself in Fallout 76, Jedi: Fallen Order and Axiom Verge.
Let us know what you think of this PlayStation Plus line-up! Are you planning on giving any of these titles a chance? Let us know!