Interview: Vigil boss David Adams on Darksiders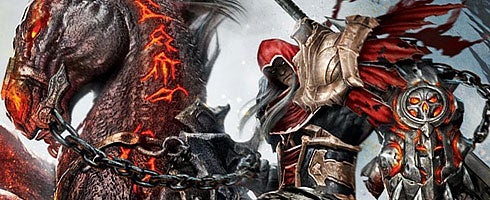 Launching new IP in today's gaming environment is one of the riskiest moves developers and publishers ever make. Facing no guarantee of return, giant outlays, genre saturation and clogged release schedules, pushing out a newborn can be terrifying for all concerned parties.
Fortunately, though, well-considered assaults on the core market still work. Borderlands busted US sales in October with over 400,000 units moved, proving the glory-chasing spirit pays dividends with the right timing and the right product.
Hoping to replicate Gearbox's feat in January comes Vigil Games and THQ with demonic actioner Darksiders, and all indications, at least from an aesthetic perspective, are very hot. Comparisons to God of War and Zelda have followed its development since 2007, and our first dalliance with retail code last night - watch the opening 20 minutes here - show a game that isn't afraid to go large: massive bosses, epic story, giant weapons, angels versus demons, dogs and cats living in perfect harmony; the full nine yards.
From the very start it's awesome squared, as if Vigil's taken the concept of "awesome" and pumped some awesome into it. You are War, one of the four horsemen. Something's gone wrong between the worlds of Heaven, Hell and Earth. You need to fix it. You are very bad indeed. Why wouldn't you want to play it?
Vigil GM David Adams took time out to talk to VG247's Stephany Nunneley on the game's influences, prospects for the future and War's "big red fiery sword". Hit the link.
The game releases for PS3 and 360 on January 8.
VG247 - Most action titles of this nature don't allow for much exploration, and Darksiders seems to have a bit of an open world element to it. How much of the ruined city and the surrounding areas are we going to be able to roam around in?
David Adams: You eventually get full access to the entire world, which is important because each area of the game has plenty of secret rewards and items for you to find. Initially, you are somewhat limited in where you can go - but as you acquire new items you'll be able to unlock more and more of the world.
Additionally, the game is completely seamless, so you are free to explore without any pesky load screens. And to help things out, later in the game you get Ruin - War's steed - which allows you to get around easier.
How much destruction can the player cause to the world around him? We've seen cars and fire hydrants suffer the brunt of War's battles, does this mean the entire game has fully destructible environments or are only certain aspects destructible?
David Adams: Only certain elements are destructible. Our "general" rule of thumb was that anything not part of the basic architecture would be destructible. Initially we had more destruction in the game, but since our game relies heavily on traversal and puzzle elements - in addition to combat - it didn't make sense to let the player destroy everything (like walls) – but you are still free to bang up cars, coin dispensers, newspaper stands, traffic cones, pews, demon statues, etc. Most of those items can also be picked up and used as weapons.
Explain the dungeons and the puzzle contained within to us a bit. What purpose will some of the dungeons have on the story and the game's ultimate finale?
David Adams: The "dungeons" are where the Destroyer's chosen dwell. Very early on, a Demon named Samael tasks you with killing each of these chosen in exchange for him giving you passage to the Obsidian Tower - where you plan to kill the Destroyer. The Dungeons also contain a healthy balance of traversal, puzzle solving, combat and boss fights. You also get a new gear item - cross blade, abyssal chain, etc - in each dungeon, so completing them is fairly rewarding.
Once you've conquered a dungeon and acquired the new gear item, you can then use that item to unlock more of the world and continue on your quest.
Souls are used as currency in a lot of games at the moment. Why did you go with souls instead of, say, coins, demon heads, memories, or something else entirely?
David Adams: In our case it made sense. The merchant you interact with in the game is a demon, so we spent a lot of time trying to think of what that demon would want in exchange for his wares. Souls seemed to be a natural fit.
There have been some early comparisons of the game to the God of War and Zelda series, and while that is a compliment, do you see any similarities yourselves? Did those games influence you in any way?
David Adams: Those are both amazing games, so we generally find the comparisons flattering. The reality is, as game designers, we are naturally influenced by all the games we play. Almost every game I play I see parallels to games that came before them. In our case, we were heavily influenced by old school adventure games such as Zelda, Metriod, Castlevania - and I think when someone plays our game they will see those influences.
Also, since we wanted our game to have nice visceral combat we took inspiration from a number of combat games, including God of War. I think what people will find, as with pretty much any game ever made - is that our game, while influenced by all these other games we've played in our lives, takes those elements and molds them into something unique and original.
Explain Chaos Form and Demonic Growth a bit to us - which we know are two completely different things, but both sound rather awesome.
David Adams: Chaos form is War's ultimate manifestation of power. As you kill enemies in the game war accumulates Chaos, and when the meter is full he can activate Chaos Form - which is basically a big red fiery demon wielding a big red fiery sword. When you are in Chaos form you are essentially indestructible, and deal buckets of damage. It's our game version of a smart bomb.
Demon Growth is this strange skull-encrusted growth that has started to infest the world of Darksiders - a by-product of the demon invasion. Convenient for us, War has the ability to climb on this growth. Think of it as our version of climbing vines.
The four horsemen of the apocalypse from Revelations have given Sunday school attendees nightmares for centuries. Why choose such a theme for a game? Will Pestilence, Famine and Death make an appearance? If not, will each get a sequel perhaps with their white, black, and pale horses and requisite weapons, respectively?
David Adams: We chose the horsemen because they were accessible to a lot of people. Almost everyone has at least a passing familiarity with who the four horsemen of the apocalypse are. Heck, even my mom knows who they area.
The other horsemen don't really show up in the first game - part of the mystery centers around why War was summoned alone. If we get a chance to make sequels to this game, you can bet the other horsemen will be explored more thoroughly.
Joe Madureira was announced as the creative director of the game when it was revealed to be in development back in 2007 - will there be a retail version of the game that will include some of his artwork for the game?
David Adams: Some retailers are offering a pre-order bonus that includes an art-book. The art book is rife with Joe's work.
What about DLC?
David Adams: We currently don't have any plans for DLC - but it's always a possibility. We're just glad to have the base game done. Phew.
What is the average length of the game?
David Adams: That one is tough to gauge because it varies widely depending on how much someone explores. Personally, it took me 12 hours to get through - and I know exactly where to go, the solution to all the puzzles, how to defeat all the bosses, etc - and that didn't include getting every item. I essentially bee-lined through the game.
I would say that an average player would take around 20+ hours to complete the game - that's playing straight through the story without exploring around for extra rewards and items. If they get everything it will take longer.
PlayStation Home is getting Darksiders outfits. Will there also be a Home Space created, and do you have similar plans for XBL Avatars?
David Adams: I'm not 100% sure on that. I know there will be some Avatar items for XBL.
Will there be a demo, and if so, do you have a release laid out?
David Adams: We aren't doing a demo. We didn't have the time our resources to prepare one - finishing the game came right down to the wire.
Loads of games were moved into 2010 this year, and with such a gluttonous amount of titles for consumers to choose from, how does Darksiders stand out amongst the crowd?
David Adams: I think Darksiders is fairly unique, in that you can't find the same style of gameplay from any other game. It may bear similarities to other games, but the experience itself is quite different – a combination of combat, puzzles, exploration, character advancement, light RPG elements, seamless world, etc.
I, personally, think it's the kind of game that you can sit down to play then look up and realize five hours have gone by. It has that immersive quality that draws you into the story and the game, and like all true adventure games it constantly teases with something new around every corner – so you want to keep playing just to see what the game will throw at you next.