Hines: Bethesda "own the rights" to Fallout MMO, not Interplay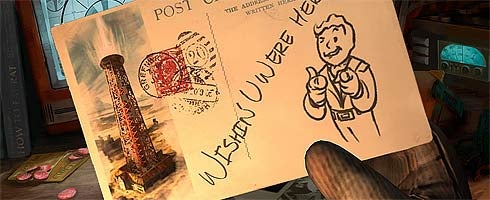 Bethesda VP of PR Pete Hines has told VG247 in unequivocal terms that Bethesda, not Interplay, owns the rights to develop any Fallout MMO.
Interplay's Eric Caen said last year that Bethesda had turned down the option to develop a Fallout MMO when it bought the rights to the IP in 2007.
But Hines, speaking in a phone interview yesterday, insisted the claim is not true in the slightest.
"We own the rights to the MMO," he said when asked if Caen's comments were true.
He continued: "We own the rights to everything Fallout. The licence is ours. Fallout belongs to us. That's what I'll clarify.
"Beyond that, I'm not commenting on anybody else's comments. It's a legal matter. A specific MMO or project or any of that stuff, the lawyers are all going to sort it out."
Since last night's interview, Caen has responded to Hines's quotes.
"I can't agree on this," Caen told VG247 in an email this evening.
"When we sold the IP, it was clear that the MMO could be developed by Interplay. Then we received a unilateral termination letter.
"Since that, we are only asking either to continue the development, either to get this contract cancelled as the consideration would not have been received in full."
You can hear Hines's full quote from this morning's Morning News Bulletin here
Bethesda "allowed" to do one more Fallout if MMO release is blocked
Caen told Eurogamer that Interplay could develop Fallout 6 following a fifth title from Bethesda if Fallout Online's release is blocked.
"We sold the Fallout IP to Bethesda in exchange for a certain amount of cash and the right to do the Fallout MMO," he said.
"If they refuse to let us do the game, then the sale of the IP is terminated, and they will be allowed to do only one more Fallout, 5."
Caen continued: "The original licensing deal was for three games and their DLC. So they already did Fallout 3, then Fallout: New Vegas, and they can only do one more Fallout, 5, if the sale of the IP is cancelled by the court."
Interplay has been developing Fallout Online since 2008, but was sued in 2009 for trademark infringement and breach of agreement over the title, previously codenamed Project V13.
The MMO is aiming for a 2012 release, with a beta due in the same year.
The comments from the two men are merely the latest in an increasingly bitter legal wrangle between the two parties, with Interplay claiming earlier this month that Bethesda's take on the matter is "absurd".