Guitar Hero 5 getting STP, Alice Cooper, more in June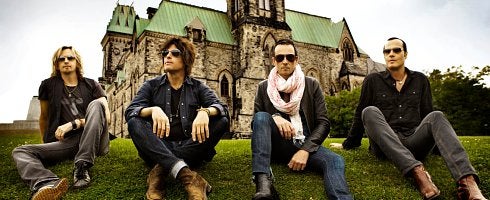 Activision's announced that Guitar Hero Stone Temple Pilots, Steve Ouimette, Alice Cooper and All Time Low will be hitting Guitar Hero 5 in June.
Things start off June 1 with the Stone Temple Pilots track pack which features the new single Between The Lines off their new album that hit today. It also includes Plush and Sex Type Thing from the awesome album Core.
Then on June 8, soccer fans can revel in tracks from Steve Ouimette with rock-inspired national anthems recorded exclusively for the Guitar Hero. The National Anthem Track Pack will be free on Xbox 360 and PS3, and includes: God Save the Queen, Il Canto degli Italiani, La Marseillaise, Lied der Deutschen, Marcha Real, and The Star-Spangled Banner.
Alice Cooper gets a three song track pack on June 15 with I'm Eighteen, School's Out and Welcome To My Nightmare.
Rounding things out on June 22 is a three song from All Time Low which is comprised of Dear Maria Count Me In, Weightless and Damned If I Do Ya (Damned If I Don't) (Live).
Track packs will be available for 440 MSP/$5.49/550 Wii Points.
Individual songs will run you 160MSP/$1.99/200 Wii Points each.