Thanos may be returning to Fortnite in time for Avengers: Endgame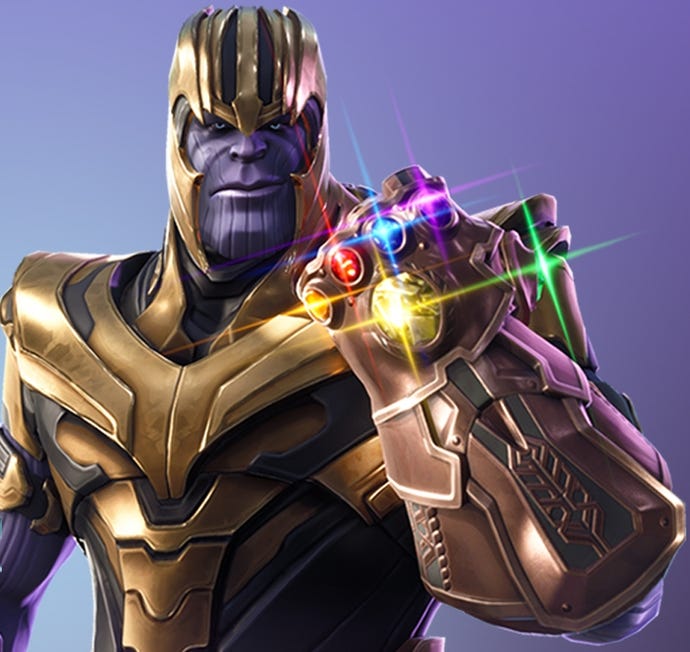 It looks like Epic is gearing up for the impending opening of Avengers: Endgame by bringing back one of Fortnite's most popular modes.
Thanos, in case you missed it, made his way into Fortnite last year with a limited-time mode. The event came as a surprise to most, and was perfectly timed to cash in on the Avengers: Infinity War hype.
Epic is seemingly looking to repeat this success very soon. Dataminer Skin-Tracker found new references to Thanos in the files of Fortnite's most recent v8.30 update.
More specifically, new kill and death feed messages clearly namedrop Thanos.
In the mode's original iteration, Thanos' Infinity Gauntlet would randomly land somewhere in the game's world. Whoever picks it up can turn into Thanos. Needless to say, this is an incredibility powerful form, so much so, in fact, that it was nerfed twice.
New Kill Feed messages (1st image) and new Death Feed messages (2nd image)

"unleashed an inferno on" sounds interesting...#fortnite pic.twitter.com/ROZnzTfLXo

— Skin-Tracker (@SkinTrackerCom) April 10, 2019
It's not yet clear if the Endgame-inspired mode will work in a similar way, though it's possible Epic may be making a few changes to keep it fresh. Infinity War's sequel, Avengers: Endgame, opens in cinemas at the end of the month, so expect officially news about the mode to follow fairly soon.
Until then, catch up on the Fortnite Season 8 Week 7 challenges in our guide.