Final Fantasy 15 boss battle DLC will have you fighting Square Enix president Yosuke Matsuda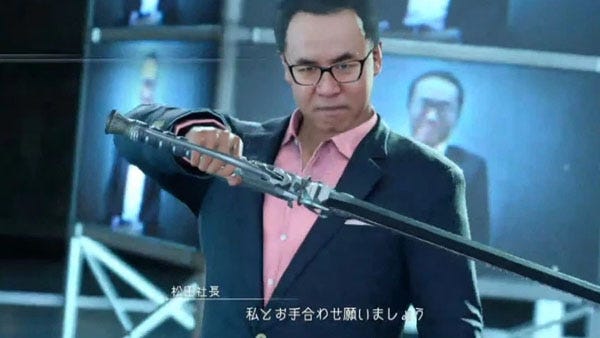 If you play Final Fantasy 15, you'll be getting some interesting DLC in the near future.
During a livestream for the game hosted by Square Enix this week, Final Fantasy 15 developers showed content included on a "Mystery Disc".
According to Gematsu, this disc ended with a boss battle. Literally, a boss battle with said boss being Square Enix president and CEO Yosuke Matsuda.
The game's director Hajime Tabata said during the stream that this battle will be released as DLC. Maybe that along will help the game ship another 5 million copies.
So, that's something to look forward to alongside a free Holiday Pack which will be released sometime before the end of the year. The pack will contain New Game + and a Level Cap Creation Feature.
Final Fantasy 15 was released earlier this week for PS4 and Xbox One.