Elder Scrolls Online Reaches 13.5 Million Lifetime Players
With the launch of Elsweyr, the playerbase of Elder Scrolls Online continues to grow.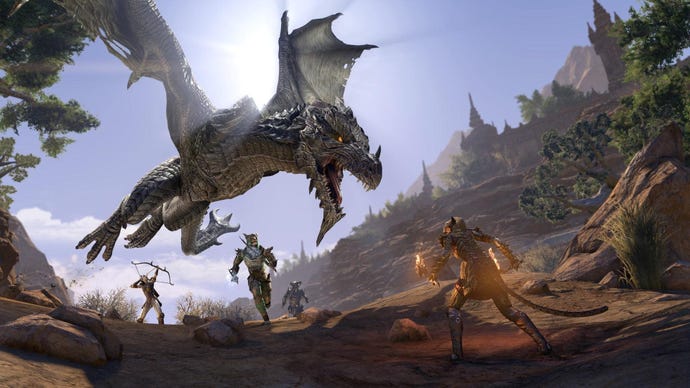 This article first appeared on USgamer, a partner publication of VG247. Some content, such as this article, has been migrated to VG247 for posterity after USgamer's closure - but it has not been edited or further vetted by the VG247 team.
Zenimax Online has revealed to USG that following the release of Elder Scrolls Online: Elsweyr on PC, Xbox One, and PlayStation 4, it has reached 13.5 million lifetime players. That's 2.5 million new players in a single year, up from the 11 million announced during Bethesda's E3 2018 presentation. Bethesda stresses that this number does not count free trials, but does count those who play on Xbox Game Pass.
"It seems like ever since our One Tamriel update back in 2016, which leveled out the leveling curve and let everyone play with everyone else, that's when the game really started taking off," Elder Scrolls Online game director Matt Firor tells USG. "We did have a pretty hefty explosion of player from [late December 2018] through [February 2019] that took us off-guard. We didn't know we were going to be that popular, which is a great problem to have."
Elder Scrolls Online's Elsweyr chapter is currently live on all platforms, taking players to the ancestral home of the cat-like Khajiit. After a rough few years following launch, Elder Scrolls Online found its footing with the One Tamriel and Tamriel Unlimited updates in 2015 and 2016. The MMO also joined Microsoft's Xbox Game Pass program last year, which Firor agrees has helped ESO continue to grow.
"We had a series of really successful free trials on Xbox. We had a lot of people get interested in the game because of that. The Game Pass is basically an extension of those, because it gives people a way to jump in and play," says Firor.
"Do we think it helped? For sure. It got more people into the game. More people got to see what the game was, which was a good thing for us," adds ESO creative director Rich Lambert.
Elsweyr is part of Elder Scrolls Online's Season of the Dragon, which started with the Wrathstone DLC in January, and will continue with additional DLC releases in the third and fourth quarter of 2019. If you're interested in how well Elsweyr continues to expand the story of Elder Scrolls Online, you can check out our review. We also have a much larger interview with Firor and Lambert, that talks about where Elder Scrolls Online has been, and where it's going.