Dirt 5 dev says PS5 DualSense is "incredible"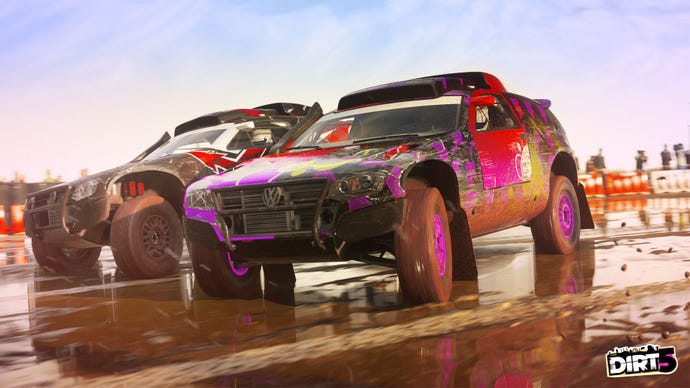 We now know a little bit more about what the DualSense is capable of thanks to Dirt 5 maker Codemasters.
In a new trailer (below), the studio's technical director David Springate explained some of the key next-gen features for the upcoming racing game and how the team catered development towards PlayStation 5 tech in a few specific areas. In particular, he revealed some interesting new information about the DualSense controller.
According to Springate, Dirt 5 is poised to take full advantage of the console's new DualSense controller, fully embracing the pad's adaptive triggers and haptic feedback to make the racing experience more tactile and immersive.
"There's not often that something in the controller space comes along and surprises you," said Springate. "That says 'why were we not doing this before?' It's incredible."
According to Springate, it's mostly in how the vibration works through the haptic feedback that makes the pad feel so unique and ground-breaking. "There wasn't enough expression within rumble before," he explained. "And you'd just adjust how frequently you'd turn them on and off. With the adaptive triggers, you don't just supply an 'on' or 'off', you supply a waveform to explain how soft you want it, or how much you want the [triggers] to push out or pull.
"This means you can feel the world how we want you to feel it, [...] and that means Dirt 5 feels like no other racing game – it's like nothing I've ever played before, if I'm honest."
The video also demonstrates just how the game's 120hz capabilities affect the gameplay, which is interesting to hear from a developer's technical point of view. Springate explains the higher refresh rate in terms of allowing more pixels to appear on-screen, meaning the whole experience looks smoother and more realistic.
Additionally, Springate covers how the game uses 3D audio, noting how players are able to plug in a regular pair of headphones and have 7.1 surround sound manifests in a 3D space around you. You can pick your in-car stereo, speakers set up around the course, and more besides.
Dirt 5 launches on November 6, but if you purchase the Amplified Edition, you can get early access to the game right now on current-gen consoles. If you purchase Dirt 5 on either PS4 or Xbox One, you will be upgraded to the next-gen version for free thanks to Microsoft's Smart Delivery tech for the Xbox Series X, and via a free upgrade on PlayStation 5.
You can read our Dirt 5 review right here.