Diablo 3 celebrates 20 year series anniversary with all 16 levels of the original game remade in a new dungeon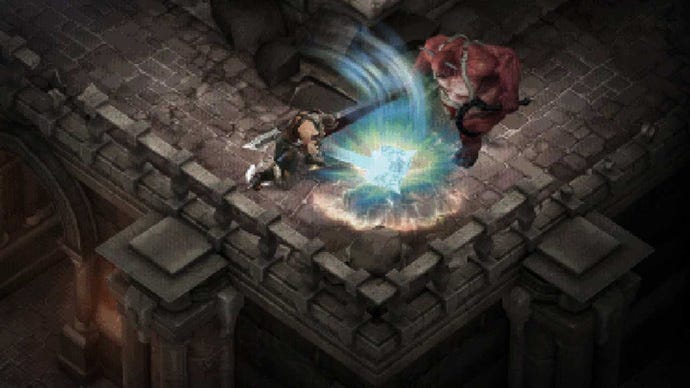 Diablo 1, playable in Diablo 3's shiny new skin. Are you sweating?
Diablo is now 20 years old. The original dungeon crawler first released in the US on the very last day of December 1996. It didn't come to Europe for almost a year, and it was some further months before it hit PlayStation and Mac, but if we're going by initial release date, it's a birthday boy.
To celebrate this milestone, the Diablo 3 team has released the Darkening of Tristram, a special annual anniversary event. The most notable feature of this event is a new dungeon featuring all 16 levels of the original Diablo, lovingly recreated with shiny new Diablo 3 assets.
The dungeon is presented in "glorious retrovision" - the camera more closely mimics Diablo's original perspective, there's a pixel filter on everything, sounds are tinnier and repeat more, you can't run, everything is locked to just eight degrees of rotation, and you'll enjoy old school animations and UI. The idea is to make Diablo 3 really feel like the original experience, apparently.
"An ancient evil stirs in the ruins of Old Tristram, and a mysterious portal has appeared that leads to the halls of an all-too familiar cathedral. Deep beneath the catacombs, the Dark Lord awaits any intrepid adventurer who dares to challenge him," Blizzard wrote in a Battle.net blog post.
All this arrives with Diablo 3 patch 2.4.3, which is coming soon and also brings some quality of life changes, item updates and and changes to Greater Rifts. Once it drops, all through January you'll encounter cultists all over Sanctuary; slay them and you can loot their missives, which will lead you to a portal to the new dungeon.
The video above talks about how the Diablo 3 team came up with this idea and how they drew on community resources to help reconstruct the original Diablo, and also gives further detail on some of what you can expect from the experience.