How accurate is the London shown in the Detective Pikachu trailer?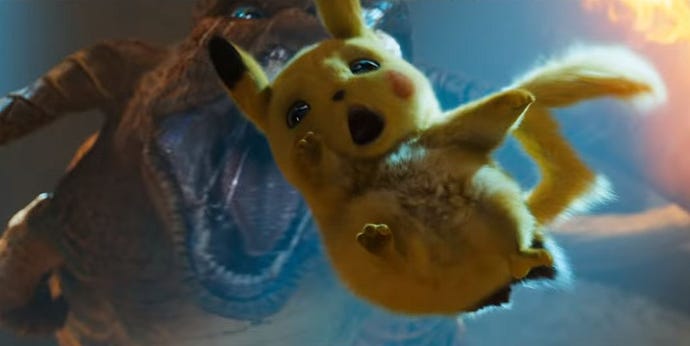 East London. The most wonderful and equally terrible portion of an already divisive city.
The home of big business and thirty Prets-Per-Square-Inch. The historic stomping ground of Jack the Ripper, The Kray Twins and Jeremy Beadle. Twinned with any other city where it's impossible to know how many layers you need to wear on any given day. Birthplace of Grime and East 17. The average price of a beer is rising so steadily that any figure quoted here would be inaccurate by the time of print. The Central Line's hotter than a magma bath, the DLR is the slowest roller coaster in the world, I don't understand the fascination with artisanal doughnuts and if the rent gets any higher I'm going to paint myself up like a tree and move into Victoria Park.
As someone who lives, plays and barely works here, when I saw the two trailers for the upcoming Detective Pikachu film and recognised a couple of the shooting locations I was struck by how much of the city's story is present in or just out of shot, but passing without commentary.
Well, I'm here for the commentary.
Bishopsgate
Here's a busy blend of iconic imagery from Pokemon and the real world. The immediately recognisable red bus, a black cab, the Transport for London logo on the bus stop (which I'm honestly shocked didn't just become an easy Pokeball in the edit) and a weirdly rendered way-too-shiny model of a blue and yellow bollard in the middle.
This shot is a composite built from a few different areas around Liverpool Street Station, altered again with a bit of After Effects magic to add in all the noise and colour. Ryme City clearly has much fewer restrictions on street level advertising than this portion of London; making it, at least in that sense, somehow more of a hellish dystopia.
Squint and look closely. There's the unmistakable unaltered facade of a Pret A Manger in the background with a white star on red background. If you've never been to Pret before: it's a sandwich chain for people who have reached an unfortunate conclusion about the value of their material wealth against their work-life balance.
If you're going to make a pilgrimage to the Poke-Pret: it's right outside the station as you leave the east entrance.
It's worth noting that the bus stop H in the foreground of this image and way too close behind it, the less visible G, flank an entirely different Pret A Manger on the right side just out of shot.
Bishopsgate was the site of an IRA bombing in 1993, which required £350 million in reconstruction investment, took the life of News of the World photographer Ed Henty and injured 44 others. This attack directly lead to the installation of increased security measures all over the city to decrease the likelihood of becoming a repeat target.
It's. Uh. Nice this street can finally be known for something else.
Rivington St
This next shot is right in the heart of Shoreditch, which I find relevant because that's the creative and nightlife hub of a generation hugely influenced by Pokemon's existence. I don't think that fact was lost on the film's location scouts.
The area is home to advertising agencies, tech start-ups, co-working spaces, modelling and photography studios, enough coffee shops for everyone desperate to get out of the office around 1pm for as long as possible and enough bars for lads like me who just can't bring themselves to travel home after work. Never come here on a weekend. It's not bad, it's just not the point.
On the left of the shot is Cargo, which on a night out is no one's first choice.
This area's biggest draw and a renewable source of column inches about millennial arrested development is Ballie Ballerson, the bar what has got the ball pits in it. It's at the end of the street, across the road on the left. My biggest secret is that I've always secretly wanted to go and haven't dared to admit this. Everyone I know is too cool. Instead we just drink wine and talk about our feelings.
Shoreditch is host to one of London's three Veggie Pret sites.
Leadenhall St
London's a city of constant growth and alteration (you'll notice the scaffolding here, a persistent feature on the city) and that's strangely true of Pokemon, too, a series which can adapt to the changing needs of its audience but always retain the initial spark which drew you in from the outset. In the same week we can have a trailer for both Detective Pikachu and a new game, while both are unmistakably "Pokemon", in the same way London will always be an awful city that I hate which also happens to be where 80 percent of my friends live.
Not visible in this image, but in the exact direction of the camera lens is the Aldgate Pump: a historic landmark most notable for the deaths of hundreds of people who didn't realise they were using it to drink water which had been contaminated from passing through gravesites, which sounds like the beginning of a Pokedex description if I've ever read one.
Incidentally, the Aldgate Pump is also the name of a special move I do in the bedroom.
You might recognise the most spikey building in the background of this shot as the Leadenhall building, or more likely, the "Cheesegrater", which joined London's Skyline in 2014. A friend of mine in city government pointed out the building directly on the right, if this were actually a picture of London and not built of several other sources, would be illegal, due to the Protected View laws controlling the sightlines of St.Pauls cathedral. That's why the Leadenhall is shaped like that; it's in order to not block the presence of St Paul's if you're looking at it from Fleet Street.
Closest Pret? Turn left. On the corner a minute's walk down the road, right next to the Boots.
Primrose St
Two shots here in the same location, just rotated roughly 90 degrees and lit differently, making it look like it's an entirely different place. That's movie magic, baby.
If you face south and turn left you're in Spitalfields, where I discovered earlier this week that the pub one of Jack the Ripper's victims drank at on the night of her murder now serves an extremely offensive drink named after her. Turn right and you'll head toward Old Street, which is like if you built a roundabout as a joke, where we all thought we were getting a decent vegan meat shop and then something clearly happened.
Funniest thing about these two shots: There's a Pret tucked in between them. Of course I'm not joking.
I'm very excited to see the final film. It looks stupid in ways which are very intentional and some which clearly aren't. I'm also desperate to point at every other frame and mutter something to the friend next to me about the cereal cafe which is likely nearby.
London. We're all arseholes here.