Which Pokemon Would Be Your Partner in Detective Pikachu's Ryme City?
COMMUNITY QUESTION | "[Insert Pokemon name here]! I choose you!"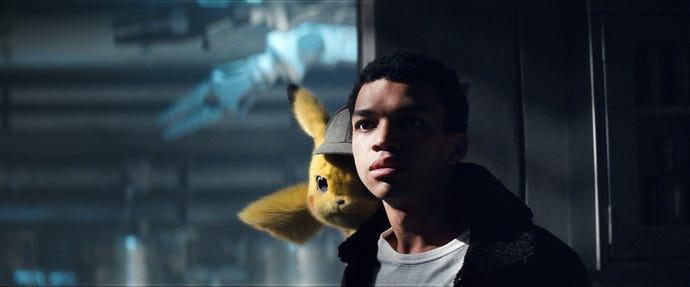 This article first appeared on USgamer, a partner publication of VG247. Some content, such as this article, has been migrated to VG247 for posterity after USgamer's closure - but it has not been edited or further vetted by the VG247 team.
Detective Pikachu is a lot of fun, and that's because one of its main settings, Ryme City, is likewise a lot of fun.
Ryme City is also unique in the Pokemon universe. Pokemon within its borders are partners, not pets. There are no PokeBalls, and no Pokemon battles (well, not legal battles). Best we can tell, there even seems to be a "One Person, one Pokemon" rule in effect. You bond with your pal for life, and that's that.
How about it, then? If you lived in Ryme City and had to limit yourself to one Pokemon as your BFF, which one would you choose?
Mike Williams, Reviews Editor
While I'd hope that I'd get something completely badass and powerful like Darkrai, in my heart of hearts, I know that's not where my Pokemon destiny lies. Given my propensity for new technology and hardware, my likely Pokemon partner is something like Rotom. This weird little dude can possess electronics and appliances, which gives it different abilities. When I travel, I rock the Nintendo Switch, iPad Mini, PlayStation Vita, Amazon Kindle, and laptop, all of which could provide a wonderful home for my Rotom. So yeah, that thing would probably be my Pokepartner.
Matt Kim, News Editor
This might sound callous, but the only time I ever really thought about living with real-life Pokemon was when I was imagining riding on top of them. And there's only one Pokemon that I return to over and over again with this question, and that's Wailord.
While a Wailord would be highly impractical for an urban environment like Ryme City, I'd probably spend my time in the seven seas anyways. It'll be like living on a houseboat, except the boat is also your best friend.
Nadia Oxford, Staff Writer
Arcanine is the only correct answer, obviously. Arcanine combines all the best qualities of a big dog and a big cat, so it's perfect as a protector as well as a method of transportation. It's also fluffy as hell.
There are even lots of Growlithe and Arcanine walking around Ryme City in Detective Pikachu, so my Arcanine would have lots of friends!