Demon's Souls PS5 | Best Starting Class and Character Builds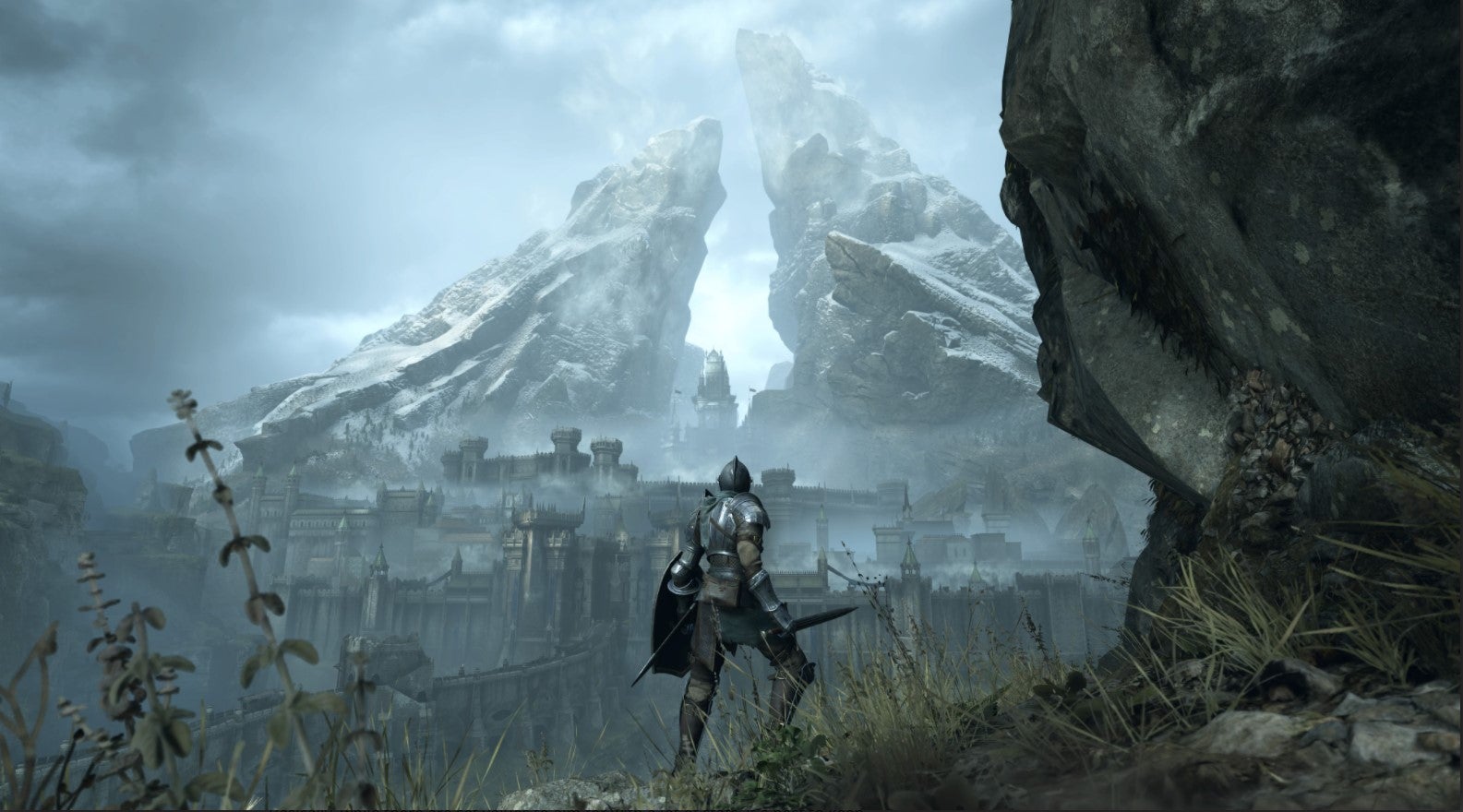 In the PS5 remake of Demon's Souls, there's a dizzying array of inscrutable starting classes to choose from. And right at the beginning of your adventure, how are you supposed to know which to pick?
Then, as you trudge your way through the dark kingdom of Boletaria, every time you level up becomes a head-scratching decision. With tons of different stats to mull over, shaping the perfect character build across your playthrough can be an overwhelming distraction.
To answer the burning questions of which starting class you should pick in Demon's Souls, and how to craft your best character build from there, we've enlisted the help of streaming maestro and Souls series master, Oroboro.
Basically, while there are set values to aim for with a lot of stats, it's best to keep your favourites within a certain range to get the best results. Scale them too high and you'll see diminishing returns.
Your first choice is whether you want to focus on melee or magic, so you can choose how heavily to invest in Intelligence.
Then it's a question of rounding out the rest of your abilities to take advantage of some of the better miracles, spells, and items in the PS5 version of Demon's Souls.
Also check out Oroboro's picks for some of the best weapons in Demon's Souls for the early, mid, and late game, linked here.
Oroboro's Best Starting Class Pro Tips
The best starting classes for optimized builds are Temple Knight for melee and Royalty for spellcasters.
Every single build in the game should have at least 15 Intelligence and 16 Faith for the Second Chance miracle. Keep this in mind when building a character.
If you're using a Strength build, getting 18 Intelligence to cast Cursed Weapon is important. You can cast it with a Talisman of Beasts you don't meet requirements for to drain 1 hp per second (instead of 1%) for 50% increased damage. If you're using a Dexterity build, you want to use Light Weapon with the Insanity Catalyst with 30 Magic instead.
Luck is an absolutely useless stat unless you use the Blueblood Sword.
If using Strength weapons with two hands only, you can use 34 Strength to hit the maximum soft cap at 50. This is because two-handing weapons gives you 1.5x your strength.
You can increase all stats past the maximums listed, but they will have major diminishing returns.
Oroboro's Recommended Stats
Vitality - Increases HP and Item Burden | 30 minimum / 50 maximum
Intelligence - Increases MP and Magic Slots | 60 maximum | Magic Slots at 10 / 14 / 18 / 24 / 30 / 40
Endurance - Increases Stamina, Equip Burden, and Resistances | 40 maximum
Strength - More Damage with Strength Weapons | 30 minimum / 50 maximum
Dexterity - More Damage with Dexterity Weapons | 30 minimum / 50 maximum
Magic - More Damage with Magic Spells | 30 minimum / 50 maximum
Faith - More Damage with Miracle Spells and Miracle Slots | 30 minimum / 50 maximum | Miracle Slots at 10 / 16 / 24 / 36
Luck - Increases item drop rate and Plague Resistance | 29 maximum (Blueblood Sword)
Oroboro's Recommended Character Builds for Demon's Souls
When it comes to the best character builds in Demon's Souls, Oroboro knows his stuff:
"For Demon's Souls, it's important to have a build in mind when making a character.
"We stop leveling at soul level 120 because it's the level you'll find the most players at and the level where a build doesn't have too much of any one stat. These builds below are the absolute best builds in their class, depending on what weapons you want to use.
"Quality builds are the best for beginners, so you can test out every weapon and see what you enjoy.
"Every other build is for when you've decided what stat you want to focus on. Quality builds use Quality weapons, Strength builds use Crushing weapons, Dexterity builds use Sharp weapons, Magic builds use Moon, Crescent, and Blessed weapons, and Faith builds use Blessed weapons. Choose wisely!"
| Demon's Souls SL120 Quality Character Build | |
| --- | --- |
| Starting Class: | Temple Knight |
| Vitality | 50 |
| Intelligence | 18 |
| Endurance | 40 |
| Strength | 33 |
| Dexterity | 30 |
| Magic | 6 |
| Faith | 16 |
| Luck | 7 |
| Equipment | Quality Weapon +5 | Dark Silver Shield +5 |Talisman of Beasts |
| Spells | Second Chance | Cursed Weapon |
| Rings | Clever Rat's Ring | Eternal Warrior's Ring (Body Form) Cling Ring | Ally's/Foe's Ring (Soul Form) |
| Demon's Souls SL120 Strength Character Build | |
| --- | --- |
| Starting Class: | Temple Knight |
| Vitality | 50 |
| Intelligence | 18 |
| Endurance | 40 |
| Strength | 51 |
| Dexterity | 12 |
| Magic | 6 |
| Faith | 16 |
| Luck | 7 |
| Equipment | Crushing Weapon +5 | Dark Silver Shield +5 | Talisman of Beasts |
| Spells | Second Chance | Cursed Weapon |
| Rings | Clever Rat's Ring | Eternal Warrior's Ring (Body Form) Cling Ring | Ally's/Foe's Ring (Soul Form) |
| Demon's Souls SL120 Dexterity Character Build | |
| --- | --- |
| Starting Class: | Temple Knight |
| Vitality | 50 |
| Intelligence | 18 |
| Endurance | 30 |
| Strength | 18 |
| Dexterity | 50 |
| Magic | 6 |
| Faith | 16 |
| Luck | 7 |
| Equipment | Sharp Weapon +5 | Dark Silver Shield +5 | Talisman of Beasts |
| Spells | Second Chance | Cursed Weapon |
| Rings | Clever Rat's Ring | Eternal Warrior's Ring (Body Form) Cling Ring | Ally's/Foe's Ring (Soul Form) |
| Demon's Souls SL120 Magic Character Build | |
| --- | --- |
| Starting Class: | Royalty |
| Vitality | 30 |
| Intelligence | 40 |
| Endurance | 8 |
| Strength | 9 |
| Dexterity | 12 |
| Magic | 47 |
| Faith | 47 |
| Luck | 7 |
| Equipment | Moon/Crescent/Blessed Weapon +5 | Kris Blade +5 | Talisman of Beasts | Monk's Head Wrappings |
| Spells | Second Chance | God's Wrath | Soul Ray | Homing Soul Arrow | Firestorm |
| Rings | Ring of Magical Sharpness | Clever Rat's Ring (Body Form) Ring of Magical Sharpness | Ally's/Foe's Ring (Soul Form) |
| Demon's Souls SL120 Faith Character Build | |
| --- | --- |
| Starting Class: | Temple Knight |
| Vitality | 50 |
| Intelligence | 15 |
| Endurance | 40 |
| Strength | 20 |
| Dexterity | 12 |
| Magic | 6 |
| Faith | 50 |
| Luck | 7 |
| Equipment | Blessed Weapon +5 | Adjudicator's Shield +5 | Talisman of God |
| Spells | Second Chance/Regeneration |
| Rings | Regenerator's Ring | Eternal Warrior's Ring (Body Form) Cling Ring | Ally's/Foe's Ring (Soul Form) |