Demon's Souls PS4 entry is probably not what we think it is [Update]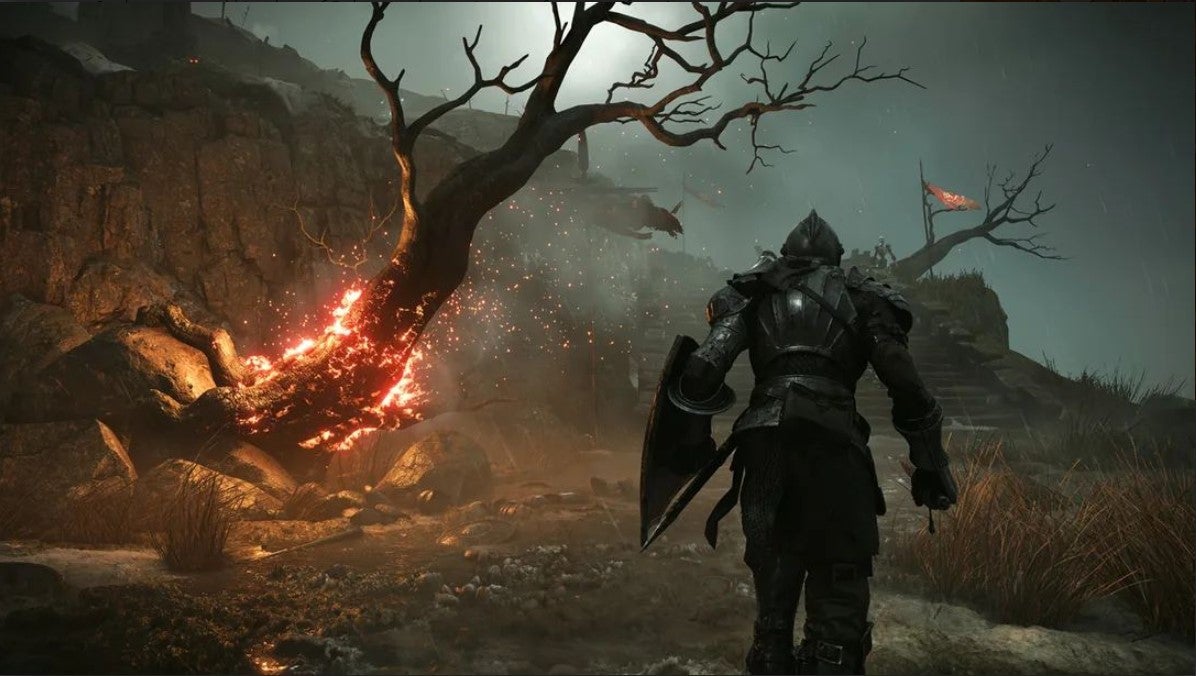 Demon's Souls, one of the most impressive PS5 showcases, was spotted for PS4 in the store database.
Update: After an entry for Demon's Souls for PS5 was discovered in the PlayStation Store's database, leading us to believe a port of the game is coming to PS4, it has since been made clear that this likely isn't the case.
Modder Lance McDonald said that the entry is actually over four years old, and is likely a port of the original PS3. McDonald suspects it was created for PS Now to allow developers to remotely debug and QA it while working on the PS5 remake from home.
"Sony often do this. These builds are never intended for release," he added.
The database entry is over 4 years old and whoever scraped it managed to somehow do it without obtaining even a single piece of metadata to verify any aspect of it, so I don't think it's worth even acknowledging personally. https://t.co/z9Jzyes1O3

— Lance McDonald (@manfightdragon) June 18, 2021
McDonald has a solid track record in uncovering development builds and cut features, so you shouldn't get your hopes up about a PS4 port of Demon's Souls.
You can read the original story below.
Original story: Bluepoint's Demon's Souls remake, which was the biggest and most technically impressive launch game for the PlayStation 5, may show up on PS4.
That's according to PlayStation Game Size, a Twitter account dedicated to cataloguing game updates and file sizes. PlayStation Game Size spotted an entry for Demon's Souls on the PS4 store database.
Though there's no direct link for it, the account said it could just be a test version, and may not end up being released. Nevertheless, the idea that Demon's Souls could end up coming to PS4 is certainly interesting.
🚨 Demon's Souls News :

🟥 YES ! Demon's Souls have PS4 Version in Database !

🟧 BUT This Version Can Be Cancelled , Can Be Release Soon Or Can Be only small Test Version For Developers

🟦 #DemonsSouls #PS5 #PS4 https://t.co/kbXXmuxq9P pic.twitter.com/2th3sWn0tj

— PlayStation Game Size (@PlaystationSize) June 16, 2021
Even if it may be hard to imagine such a technical tour de force for PS5 working on PS4, it's important to remember that this won't be the first time a PS5 game made its way to PS4. Sony, of course, started this trend by initially announcing Horizon Forbidden West and Spider-Man: Miles Morales as PS5 exclusives, before later confirming that both games are also coming to PS4.
Indeed, other announced games we've yet to even see, such as the next God of War and Gran Turismo 7, are also coming to PS4. Even on the third-party end, action game Godfall, which was similarly pitched as a lavish only-possible-on-PS5 project, was just announced for PS4.
If I were to speculate, I'd say dropping the framerate to 30fps and the visual quality significantly could get Demon's Souls to run on PS4. Of course, you shouldn't get your hopes up until more concrete information emerges.