Cyberpunk 2077 Producer Details Law Enforcement and the Rich Areas of Night City
There are no cops in the poorer districts. That all changes when you get to the affluent areas of Night City.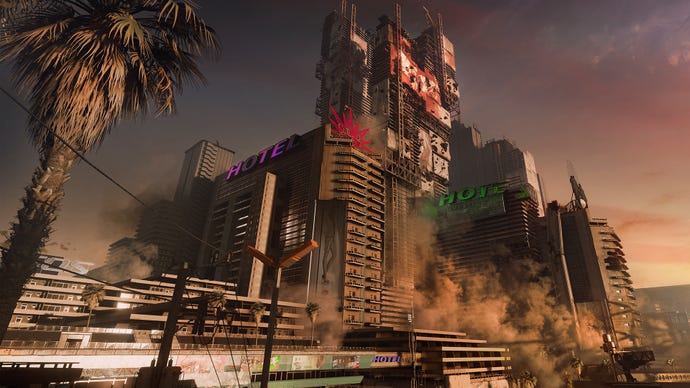 This article first appeared on USgamer, a partner publication of VG247. Some content, such as this article, has been migrated to VG247 for posterity after USgamer's closure - but it has not been edited or further vetted by the VG247 team.
In Cyberpunk 2077's two showcases to date, at E3/Gamescom in 2018 and 2019, both law enforcement and affluent areas in Night City have been non-existent. Both gameplay demos have taken place in some of the less fortunate districts of Night City, where poverty and gang warfare runs rife.
Speaking to USG at Gamescom, Cyberpunk 2077 producer Richard Borzymowski explained how the affluent areas differ from what we've seen so far. "There are very rich people in Night City. When it comes to pinpointing them in the city, out of the six districts there's obviously the City Center, which is super rich," Borzymowski said. "Think high glass skyscrapers and black metal, nobody looks at you actually. In Japantown there are certainly a lot of rich people."
"In Pacifica (one of the poorer areas) you could probably shoot someone, and if nobody would see then nobody would care. If you would do that in the City Center you would probably get some law enforcement. Because those areas are way more patrolled. The crowds will act and dress differently. You might hear more languages, for example Japanese might be a prominent language, because the Japanese are considered upper class in the universe."
I then asked Borzymowski what your options are when confronted by the law after committing a crime. "Your options are to run away, fight them and then run away, or fight them, fight them, fight them, and then die," he said. A short list of options at your disposal, then.
To date, CD Projekt RED has shown only the gameplay demo below to the outside world. It's a huge 48-minute slice of gameplay that shows protagonist V and pal Jackie tackling a gang hideout, which Borzymowski revealed takes place near the start of the game.
Speaking of the start of the game, there'll be three prologue sections of Cyberpunk 2077 to start from, each of which takes place in a different area of the game. While you can also create transgender characters in Cyberpunk 2077, you unfortunately can't romance Johnny Silverhand, the character played by Keanu Reeves.
Cyberpunk 2077 will release for PC, PS4, and Xbox One on April 16, 2020. For a complete roundup of everything we know about the game so far, you can head over to our Cyberpunk 2077 guide.