The Cyberpunk 2077 and Final Fantasy 7 Remake Collector's Editions are ludicrous, plus other top E3 2019 game deals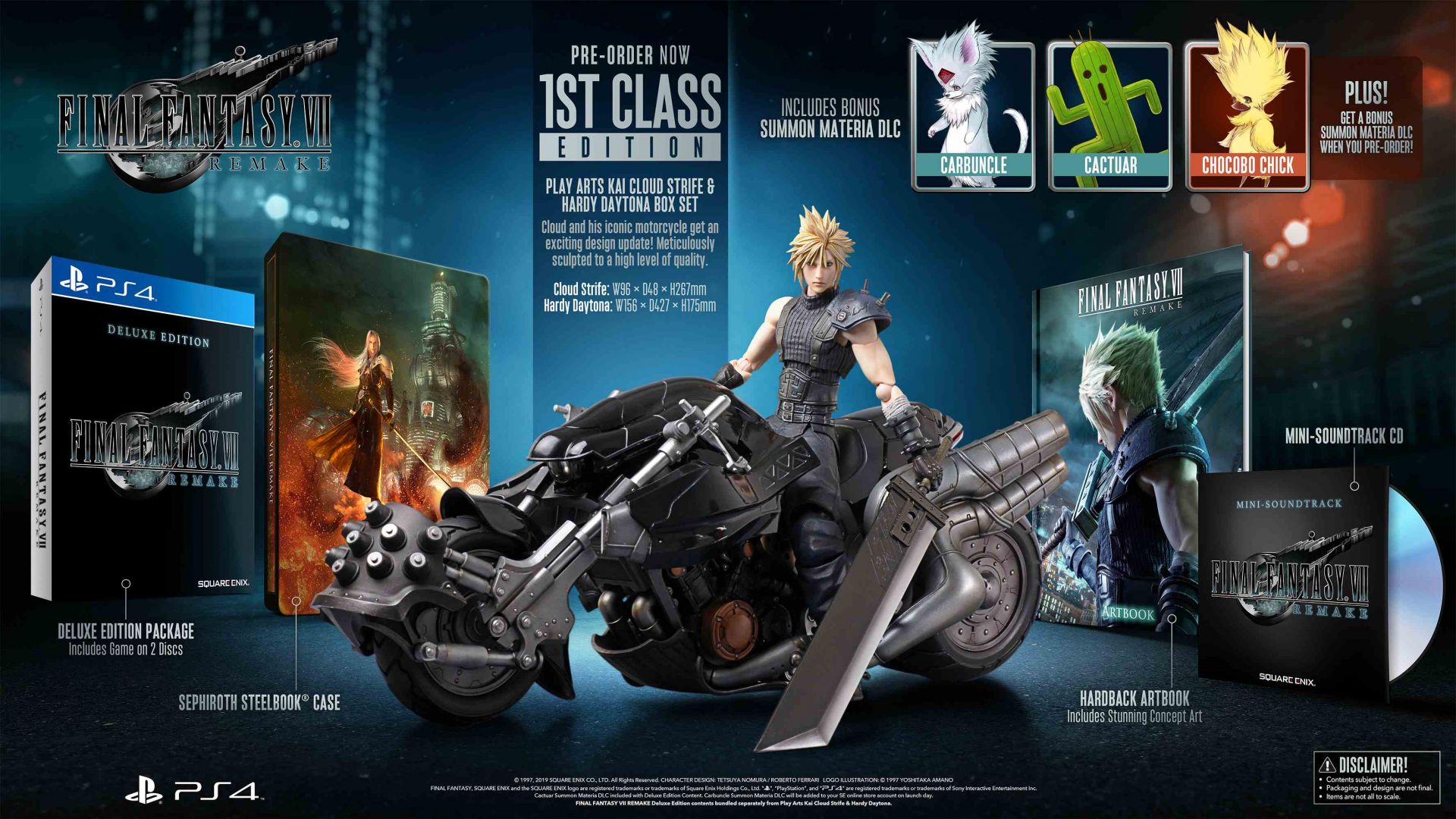 Update: After the Ubisoft and Square Enix conferences from last night, we've updated this page to include a few of the upcoming releases that were announced at the show. Don't worry, we haven't forgotten about the bank-breaking £260 1st Class Edition edition of the Final Fantasy 7 remake! Yikes!
Finally, we can say that E3 2019 is in full flow. The bombastic conferences have kicked off so it's been a barrage of flashing lights and big-budget CG trailers since Sunday. Don't worry, though, things are just getting started. Hoping to capitalise on all the positive gaming buzz and having onto just taken their first few steps of gaming's biggest stage, developers are already launching fancy special editions and tempting E3 deals.
However, before rushing away and flittering away all our money before the month has even begun, we've taken a moment to compose ourselves and gather up all of the biggest collector's editions now on sale after E3 as well as some of the top deals on games already out or due to be released over the coming year.
To begin with, let's take a look at the ginormous RPG many of us were eager to get a new glimpse of at the show. Yep, it's Cyberpunk 2077. The metropolis-sized Cyberpunk 2077 Collector's Edition is available right now to pre-order exclusively at GAME in the UK for £249.99. The PS4, Xbox One and PC versions are all currently available online.
But, what wonders do you get in the Cyberpunk 2077 Collector's Edition for all of those credits? Frankly, it's a lot. Not only is there a Collector's Edition box and the game, but also a collectible SteelBook, a 10-inch statue depicting the game's protagonist V, a hardcover art book, a metal pin set, a quadra V-tech metal keychain, an annotated copy of A Visitor's Guide to Night City sealed in an NCPD Evidence Bag, some embroidered patches, a World Compendium detailing the game's setting and lore, some postcards from Night City, a map of Night City and a sticker bomb set.
Hold on, there's more. In terms of digital goodies you also get a soundtrack, art booklet, Cyberpunk 2020 sourcebook, plus wallpapers for desktop and mobile. That bloke who shouted out to Keanu Reeves telling him he's "breathtaking" must feel pretty good about that decision right now as it's nabbed him a free copy of all this!
What if you don't have space in your life for all that...stuff? In that case, you might want to grab Cyberpunk 2077 from GOG.com where you'll get all the digital extras included above, plus a few GOG exclusives and a 30% discount at the CD Projekt RED Store – all for £49.90. Or, money's not too tight to mention, there's the Simply: RED - CD Projekt RED Collection for £69.77. This big bundle includes Cyberpunk 2077, The Witcher 3, Thronebreaker, The Witcher 2, The Witcher and The Witcher Adventure Game.
Continuing the theme of having lots of ridiculous tat in a single box, there's the Doom Eternal Collector's Edition - also available only at GAME in the UK. It's available to pre-order on PS4, Xbox One and PC for £199.99. You're eyes aren't deceiving you: that's a Doomslayer wearable helmet in there too...
For all those Earth monies, you'll also receive a SteelBook case, 'Gift of Argent Power' lithograph, digital soundtracks and lore book from the other side. Plus, there are some hellish digital extras, including a Year 1 DLC pass, Demonic Slayer skin and Classic Weapons sound pack.
Before the money all dries up, on the cheaper end of the scale you might be tempted by the Star Wars: Jedi Fallen Order Deluxe Edition, which is available for pre-order now at GAME on PS4 and Xbox One for £62.99. Forcing yourself to get the more premium edition of Respawn's latest will also grant you a few unique cosmetics.
In addition, GAME has the exclusive on the Ghost Recon Breakpoint - Auroa Edition. In this version you'll get XP boosters and the Sacred Land DLC Pack, which adds a new mission and melee weapon to the game. That's up for grabs on PS4 and Xbox One for £57.99.
Beamed in straight from the Ubisoft conference, the Watch Dogs Legion Ultimate Edition is now available at GAME for £92.99 on PS4 and Xbox One. This premium version of the London-set hack-em-up is, as I'm sure they still definitely say in the Big Smoke, a right corker.
It includes the Season Pass and Ultimate Pack, which gives you an Urban Jungle cosmetics pack and 4-weeks of VIP Status so you can enter all of the London clubs for free with unlimited cocktails. Oh, no, wait, you just earn experience and currency 30% faster. Ah! But you get access to the game three days early, too. VIP-life!
We would be remiss if we didn't mention the one game many of us have been eagerly awaiting to see more of at E3 2019. Yep, it's the Final Fantasy 7 remake. The Deluxe Edition is now up for pre-order only at GAME for £79.99. You'll get some special edition packaging with an iconic Sephiroth SteelBook, artbook, mini-soundtrack CD and summon materia DLC. Not enough for you? Well, you can always plump for the Final Fantasy 7 - 1st Class Edition on the Square Enix Store, which comes with a bulky Cloud figurine atop his motorcycle. Caught you humming the music from that chase sequence, didn't I?
To finish off, there's the Xbox One Elite Controller 2 for £179.99 at GAME. No release date has been confirmed just yet, but it's one of the few places you can pre-order the fancy new peripheral right now. For anything else that's stood out from E3 2019 so far, you can find them down below.
Think it's probably best to leave it there for now. Before we go, though, there are some big E3 sales currently underway across the net too. Why not head over to Green Man Gaming where you can find 25% off everything when you use the code 'E3' at the checkout. It can't be used on Borderlands 3 or Mordhau but there are still some decent savings are available on the likes of Octopath Traveller and Bloodlines 2.
Elsewhere, an Xbox One X with Forza Horizon 4, Forza Motorsport 7, Apex Legends Founder's Pack and PUBG is down to £359.99 at GAME. A solid bundle if you aren't fussed about holding on until Microsoft's Project Scarlett. Don't forget to grab yourself a massive saving on the Xbox Game Pass Ultimate while you can, too!
With more conferences on the way later today (and into the early hours of tomorrow) there's bound to be more over-the-top collector's editions announced soon. This page will be updated with the best of the bunch throughout the week and you should also keep watch over at Jelly Deals for even more gaming offers!