Black Ops 4 doing gangbusters, Destiny 2: Forsaken performed below expectations - Activision Q3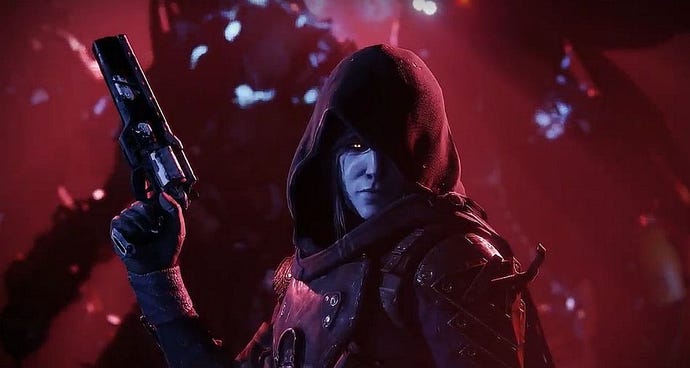 Call of Duty: Black Ops 4 is doing gangbusters in engagement and sales, but Destiny 2: Forsaken has performed below expectations, according to Activision's Q3 2018 report.
Activision Blizzard reported its third-quarter financial results for the 2018 fiscal year, citing massive engagement for Call of Duty: Black Ops 4. The firm also said on the call to investors that Destiny 2: Forsaken performed below expectations.
Due to Forsaken not performing as well as hoped, the firm plans to release more engaging content for Destiny 2, and at a faster pace to keep players interested and coming back. Activision feels it will help the game right itself.
Activision said it hasn't seen the core Destiny player "reengage" with Forsaken, which led to its under-performance. Despite this, Destiny users were actually up for both the quarter and year-over-year (yoy), that's still under expectations, apparently.
"While Forsaken is a high-quality expansion with strong engagement and new modes of play, it did not achieve our commercial expectations," said COO Coddy Johnson. "There's still work to do to fully reengage the core Destiny fan base.
"We have not yet seen the full core reengage in Destiny, which has led to the underperformance against our expectations to date. Some players we think are still in wait-and-see mode. So when you're in, you're deeply engaged. If you're not, we're hoping now is the time to work and to bring players back in and to win them back."
"We're working to accelerate the pace of live operations innovation and improve the speed with which we release new content to keep our players engaged and to provide new opportunities for monetization," added company CFO Spencer Neumann.
In better news, following the launch of Call of Duty: Black Ops 4, the game sold-through to customers more units than Black Ops 3 its first three days on the market. PC sell-through was also more than three times higher that of Black Ops 3.
Additionally for the first three weeks after launch, total active users and hours played were 16% and over 20% higher, respectively, versus Black Ops 3. As previously reported, the game was Activision's biggest digital launch ever and it made over $500 million worldwide in three days.
Call of Duty players, the company said, have more content to look forward to in 2019. More on this will be shared at a later date.
During the call to investors, Blizzard's new president J. Allen Brack touched upon Diablo Immortal, and the backlash surrounding it.
He promised the game will be "an authentic Diablo experience," and the studio "won't compromise" on its quality. There are plans for ongoing support, and it will only be released once it "meets the community's high standard."
"We think people will love it," he said, with company CEO Bobby Kotick adding those who played it at BlizzCon 2018 had great things to say about it.
User Engagement
As a whole, Activision Blizzard had 345 million Monthly Active Users (MAUs) in the quarter.
Blizzard had 37 million MAUs in the quarter. World of Warcraft: Battle for Azeroth set a new day-one franchise record with more than 3.4 million units sold-through to consumers.
World of Warcraft engagement grew strongly quarter-over-quarter, and Hearthstone now has over 100 million registered players life-to-date.
Activision itself had 46 million MAUs during Q3, thanks mainly to Black Ops 4.
Going deeper, Activision said players spent on average 52 minutes per day in its games, including Blizzard and mobile titles.
The firm also saw its games in the top 20 most viewed games on the "industry's largest streaming platform," we're assuming Twitch here. This includes Black Ops 4 where viewership "continues to break franchise records."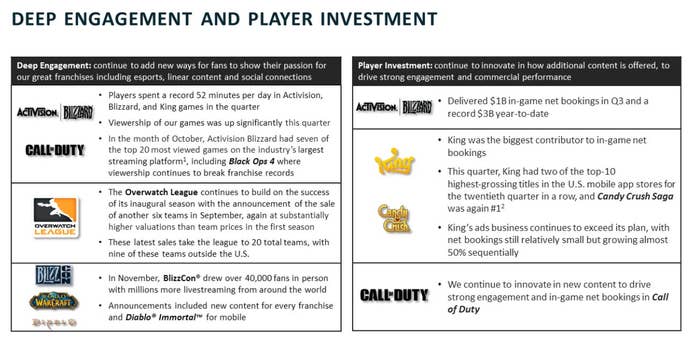 Activision-Blizzard Q3 2018
For the quarter ended September 30, 2018, Activision Blizzard's net revenues were down 7% to $1.51 billion, as compared with $1.62 billion yoy. Net revenues from digital channels were $1.28 billion.
Net bookings (DLC and digital offerings outside the base game) were $1.66 billion, a 13% decline compared to $1.90 billion yoy.
Net bookings from digital channels were $1.44 billion, compared to $1.47 billion in Q3 2017.
Activision Blizzard delivered $1 billion of in-game net bookings for the quarter, and a record $3 billion year-to-date.
Revenue from console sales declined 34% yoy to $347 million, while PC revenue was up 21% to $482 million.
We expect the latter figure to jump significantly during Q4 due in part to Black Ops 4 on PC being available only through Battle.net.