Black Ops 4: Blackout drop locations and where to land - Firing Range, Nuketown, Asylum & more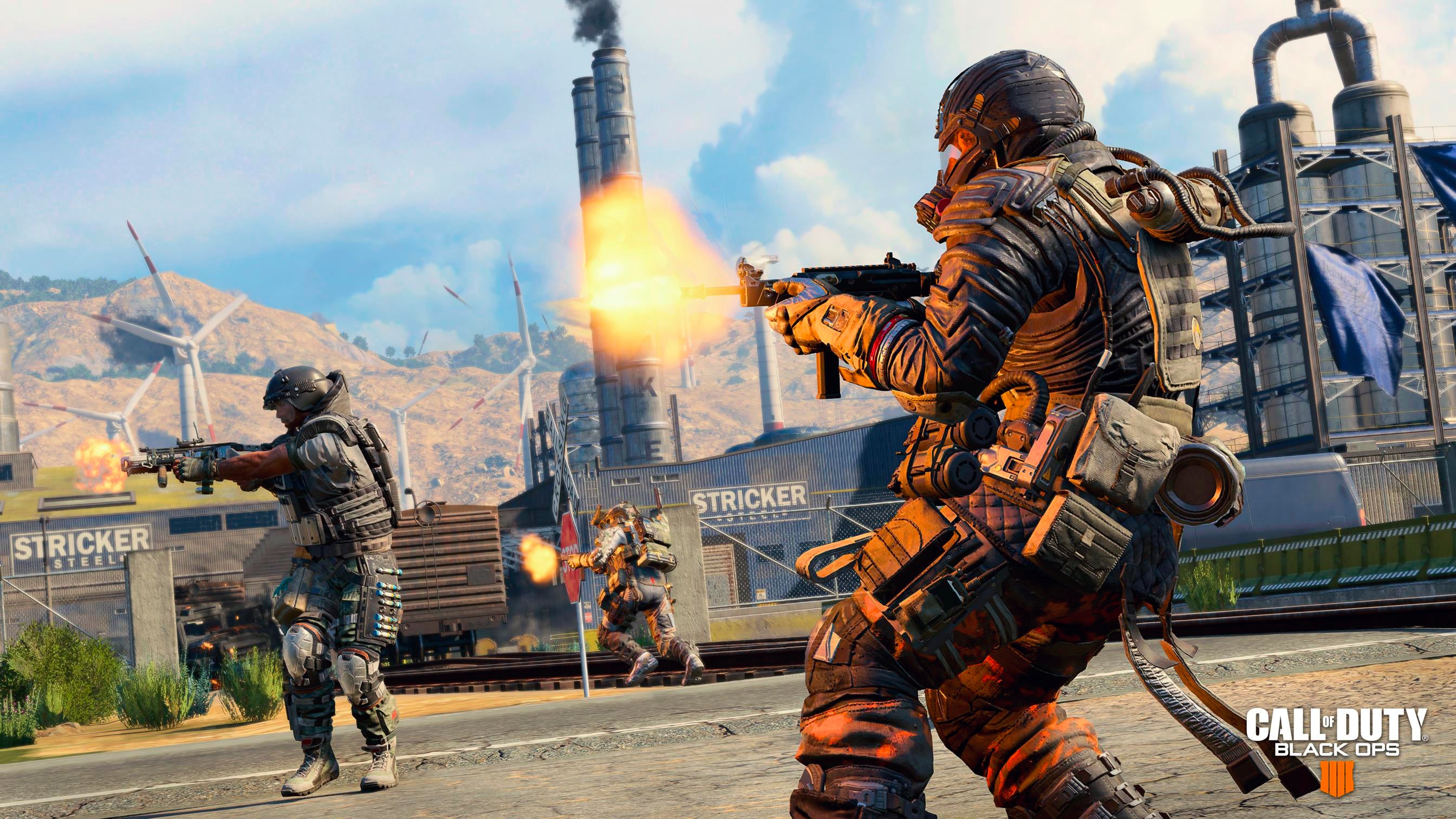 Looking to get ahead and secure your first victory in Blackout? Then look no further as we discuss the best places to land and how to get their first.
Much like its counterparts, players will have to jump out of an aerial vehicle - a helicopter, in this case - and deploy a wingsuit to allow them to safely reach their destination.
The aim of the game in any Battle Royale mode is to survive, so being first to land on the map has its advantages. When you're on the helicopter, check your minimap and you'll see a broken white line that details the helicopter's flight trajectory. This will help you plan where you want to land and you can set a waypoint.
We'll be looking at how to land the first to give you that extra advantage, as well as the best places to land if you're looking for powerful loot. Just try not to die on impact when you land, OK?
Blackout: How to land fast
If you want to be one of the first to land, you'll need to jump out fairly early and do a straight nose dive to your destination. There will be a meter telling you how fast you're falling and you'll want to get that up to about 70 mph. Once you've hit that speed, or thereabouts, pull up a little so your wingsuit can take full effect.
You parachute will open automatically once you're coming in for landing and you can float over to your desired destination. Hopefully, you've landed before anyone else and found that sweet camping spot.
Blackout: Best landing spots
Now that you've mastered a speedy landing, let's look at where you should be landing. Blackout doesn't have a rarity system, so you won't need to go frantically hunting for the best loot all over the map to stand a chance of winning. Equally, if you find a sniper rifle and enough ammo, you won't be at a disadvantage if you decide to camp for the majority of the match.
There appears to be no shortage of weapons, ammo and health packs around every location on the map, but keep in mind that some of these areas contain zombies who will drop some extra special loot.
The quieter areas of the map will have the best loot and as the circle closes in, the dynamic of the map changes. You might find the centre of the map quieter in the first half of the game and becoming more frantic as the match progresses.
For now, we'll take a look at what players who took part in the beta thought were the best starting points for Blackout:
The Construction Site is a decent starting point a good starting point as it has a lot of higher-ground vantage points. The gear you can expect to find is decent, but it's the layout of the area that makes it the perfect sniping ground.
At the south side of the site, there's a housing complex that's perfect for sniping those coming from the Array or Nuketown island and each of the houses has some high-level armour and useful consumables.
There are a lot of underground bunkers in Nuketown that contain a fair amount of loot as well as a sign that reveals how many players are on the island. If you're the only one there, you'll have your fill of medkits, ammo and weapons, but keep an eye on that sign as a few enemies might appear while you're busy weapon hunting.
Fracking Tower seems to be another popular landing spot for players. Again, it has some useful vantage points but the area itself is quite open, so it's a bit of a high risk, high reward area.
This map is inspired by an old Black Ops map and reportedly holds some of the best loot on the map. There are a lot of buildings with conveniently placed windows to hide in and a few well-placed boxes but expect a lot of players to converge on this point. It seems to be the most common endgame stage once the circle collapses, so you'll be familiar with it in no time.
Landing here could be a safer bet as not many players like to land so close to the edge of the enclosing circle. You should have ample time to scout around for gear and if you reach the top of the lighthouse there's a chance some level three armour will spawn, so it's worth a look if you're in it to win it.
There's also the chance of an ATV spawning near the lighthouse itself, so keep your eyes peeled.
There are two stories in the Asylum that you can camp in to take out both players and zombies, as well as a maze you can hide in if you want to outsmart your enemies. There's a chance the zombies could drop some powerful loot, including the Zweihander LMG and Monkey Bomb grenade. You might even be lucky enough to find a Mystery Box!
There are two buildings to the west of Hydro Damn that are filled with weapons, medkits and various other gear. These office-style buildings seem to be a reliable location to find assault rifles if that's more your style. The Dam itself will probably be looted early on, so keep your eye out for players around that area.
We've also looked at the zombie locations on the map where there's a chance you'll find some excellent gear as well as the chance to goad a horde of zombies to pursue an enemy or defeat them yourself. Perks will play an important role in Blackout and you can head over to our guide to find one that suits your playstyle.
For everything else, head over to our Blackout guide.