Call of Duty: Black Ops Cold War leaked by bag of Doritos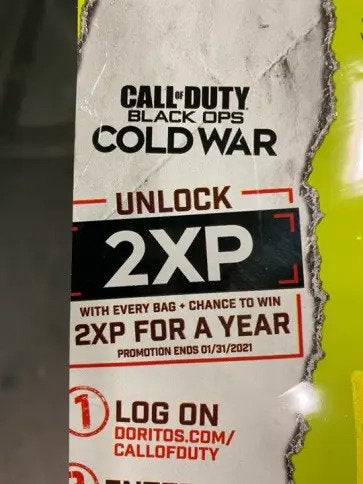 The most reliable information we've got about a release date for Call of Duty: Black Ops Cold War comes from a literal bag of Doritos.

Who would have thought that an inanimate bag of crisps could make such an autonomously cheeky decision? All of those carefully curated marketing schemes, coupled with months of tight-lipped secrecy across hundreds, if not thousands, of employees. All of that, foiled by one rogue packet of Doritos Chilli Heatwave.
The news comes from popular Call of Duty site charlieINTEL. Check out the tweet below.
As you can see, Doritos Double XP ends in January 2021, meaning that Call of Duty: Black Ops Cold War is still likely to launch before the end of 2020.
A follow-up tweet was soon posted clarifying that a second image had turned up. Check it out below.
The second image mentions that the promotional deal begins on October 5, 2020, meaning that the new Black Ops game will likely launch shortly afterwards. Last year's Modern Warfare came out on October 25 and ran its own Doritos campaign for a couple of weeks prior to that - it's reasonable to assume that this year's Call of Duty won't be much different in that regard.
This news also comes in the wake of a range of other Call of Duty: Black Ops Cold War details leaking last week, including information on maps, the campaign, Zombies, and more.
Double XP promotions are always lost on me. For example, it was recently revealed that you can buy Halo Infinite Monster Energy now, which will allow you to redeem a Double XP booster. But seriously, who wants to hold on to an empty, likely smelly can of Monster for literal months? Sure, you can take down the code or whatever, but you can also just be cheeky and scribble it down on your Notes app without even buying anything, just like those lads who read the newspapers in the shops.
Anyway, it looks like Call of Duty: Black Ops Cold War is going to launch in late October. Cheers, bag of Doritos.