Assassin's Creed Odyssey's newest mercenary Testiklos is a tough nut to crack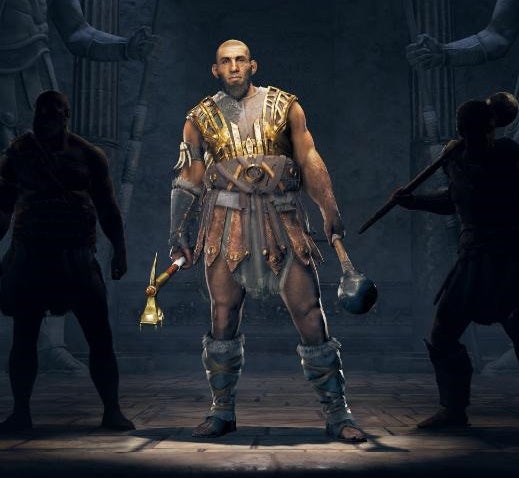 Assassin's Creed Odyssey's newest mercenary Testiklos is a walking ball joke, and has been permanently testy since the boys were separated.
Poor old Testiklos was shafted early on in his life when he was wrenched away from his brother, Testikles, leaving him blue. It was like a kick in the nuts, and he's half the man he was according to the official Assassin's Creed Odyssey Twitter account. And so here we are, rooting around in our sac of dad jokes for ball-based puns, and firing blanks.
Sorry, not sorry.
The next best thing to Biggus Dickus, Testiklos the Nut dropped into the game this week, and defeating him will reward you with the Epic hammer "Testiklos's Nutcracker" which is great for smashing nuts apparently.
"The only thing Testiklos loved more than smashing things were fresh nuts," reads the item description. "Smashed nuts."
Having been separated quite early in his life from his half-brother Testikles, his mood has been unstable ever since. He never felt as secure than with his own kin, so he deals with the separation by breaking things.

Testiklos the Nut is now available in #AssassinsCreedOdyssey! pic.twitter.com/vHgNKITFrU

— Assassin's Creed (@assassinscreed) April 30, 2019
You can take a look at the loot below, courtesy of Twitter user JorRaptor.
Dammit lol pic.twitter.com/4CoXPV4tpJ

— JorRaptor (@Jorraptor) April 30, 2019
Testiklos sounds like a tough nut to crack, so good luck taking him out.
In other non-genital-related news, the first episode of the Fate of Atlantis DLC is live, and here's how to get stuck in.