Warhammer 40,000: Darktide's Xbox release marks a fresh start, and Game Pass is all the better for it
Warhammer 40K: Darktide has been through a lot of turbulence in the months since it launched, but it only took one session on the latest patch to win me over.
I was looking forward to the release of Warhammer 40,000: Darktide from the moment it was announced. I've played over a hundred hours of Vermintide, and Vermintide 2, so I knew I could count on developer Fatshark to deliver a compelling action game.
But when Darktide came out at the end of November, 2022, the action was solid, but everything around it felt unfinished, missing, or frustratingly misguided. Performance on PC needed big optimisations, especially in CPU-utilisation. In-game itemisation was paper-thin, once you put enough hours into the game to get to a point where you needed good loot.
Then there was the bizarrely aggressive monetisation. Darktide had fallen into the common trap of prioritising paid cosmetics and launching with an in-game store - in such a way that it gave players the ick – especially since large parts of the game clearly needed a lot of work.
All of that irked me, but the one thing I just couldn't get over was the lack of cross-play. Most of my Vermintide friends bought the game on Steam, whereas I opted for the Game Pass version. The two couldn't play with each other, despite both being on PC.
While Fatshark has come a long way in creating online systems that help solo players find groups (adding dedicated servers, and creating a more social experience through the hub world), the studio's games shine when played with friends, not just other players.
All of those problems combined simply drove me away from Darktide. I know that's been the case for others, too. Even at the end of September, as I write this, Darktide is still sitting at a Mixed user review rating on Steam, which is true for both recent reviews, as well as nearly all 62,000 of them.
Then there was the Xbox version, which was initially supposed to launch day-and-date with PC, but ended up being pushed back over and over, to the point that it started to never come up in regular communication from the developers. It wasn't until Fatshark officially announced a release date for the Xbox version last month that hope was restored.
But it's not just the October 4 release of the Xbox Series X/S version that's worth celebrating – this also marks a fresh launch for Darktide on all platforms.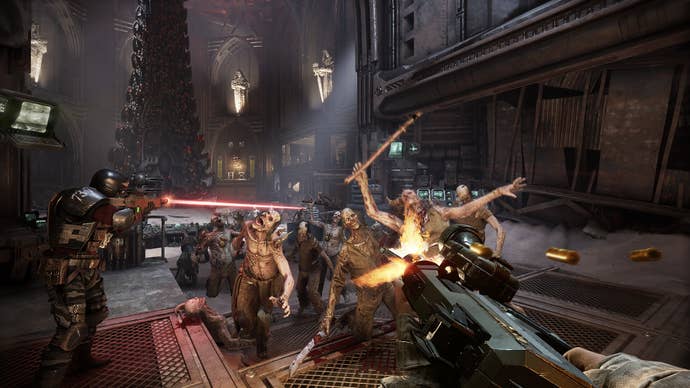 The Xbox version arrives with Patch 13, which goes live on PC the same day. Patch 13 is a major milestone for Darktide. I was invited by Fatshark to play an early build of the game running Patch 13, and got to sample everything it has to offer. The short version: this is easily on the level of Cyberpunk 2077's Patch 2.0.
Patch 13 changes the class game entirely, adding new variations for every class. Class diversity has always been something the Vermintide games were good at, but the way Darktide implements this classic design is Fatshark's best. Each class now has a fully-fledged, multi-branch talent tree, which felt surprisingly unrestrictive.
You can rigidly follow a linear path and create a more standard subclass, or you may instead elect to spend your points on the abilities and passives you care about. Resetting your nodes is as easy as pressing a button; no currency or rare materials to worry about. The best part is that you can save loadouts, together with your chosen weapons to create a coherent builds.
This is particularly useful for classes like the Veteran, which excels at using firearms, but the old class system would railroad you to spec into a certain direction. Indeed, after just two hours of gameplay, I managed to sample ways of playing the Veteran I never thought possible.
Even beyond the very exciting class rework, PC players who abandoned the game (or never picked it up) have a much more feature-rich, and better optimised version waiting for them. All the work that went into the Xbox port means the PC version is going to be more performant. This isn't a magic bullet; expect framerate drops when large hoards are on screen, but if the last time you played Darktide was when it came out, you're going to feel a real difference.
While I was not able to play the game on Xbox, Fatshark confirmed that Series X will offer two modes: one targets 60fps at 1440p, and the other sticks to 30fps at 4K. Series S is limited to 1080p at 30fps for now, but the developer told me it's not ruling out a more aggressive resolution that targets 60fps down the line.
The best part about all this is that players on all platforms get to be on the same page, and everyone can play together. Future content launches will be released simultaneously across PC and Xbox, which really drives home how much of a new beginning this is for Darktide.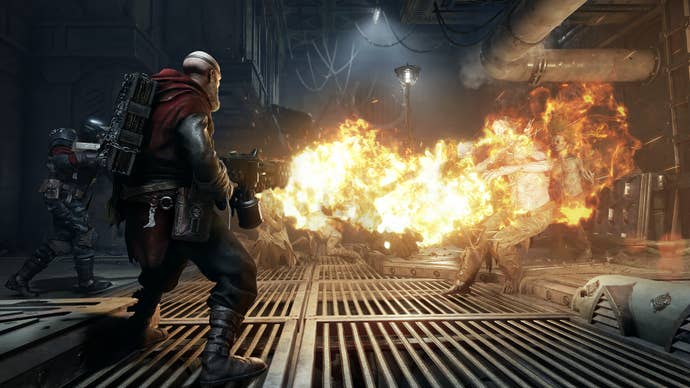 I'm often wary of rewarding companies for fixing their games months/years later. But you can only judge things as they are today. The Darktide of late 2023 is a game that supports cross-play on all platforms, runs better, offers deeper loot, new ways to play, more content – and the big one: a massively revamped class system that teases endless experimentation on its own.
The current version of Darktide is an easy recommendation, and anyone with Game Pass (especially Xbox players who'd been waiting very patiently for it) should absolutely download it and give it a try. It's the perfect evolution of Vermintide 2, and a fun game in its own right.