WAR celebrating 2 year anniversary with veteran goodies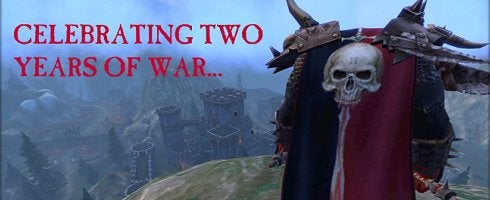 "The sounds of celebration and battle can be heard throughout the Old World. Fireworks, cheers and the roar of battle rings in the ears of combatants from both Realms…but there is a dark undertone heard beneath; the skittering of Skaven claws...."
Sounds like a fantasy novel opening doesn't it? But no, it's the intro to the WAR Herlad's latest post.
Warhammer Online: Age of Reckoning is celebrating its 2nd anniversary with some veteran goodies those who stuck with the game the full time.
Check out what's all on offer below:
WAR Double Aegis - Let those who stand beneath these twin banners never know fear in the face of their enemies.
Regenerating Firework Launcher - Using this unique item will launch a fireworks display. After each display, it will regenerate, allowing it to be used forever.
Celebratory Cloak - Crafted of the finest satin and inlaid with a decorative pattern, this cloak commemorates two full years of WAR.
Surely there's more coming for the rest. Find out what else is headed your way here.
Seems like WAR should be a bit older than it is, but apparently not. Time just flies, we reckon.
Thanks, MMORPG.