The Witcher 3: On Death's Bed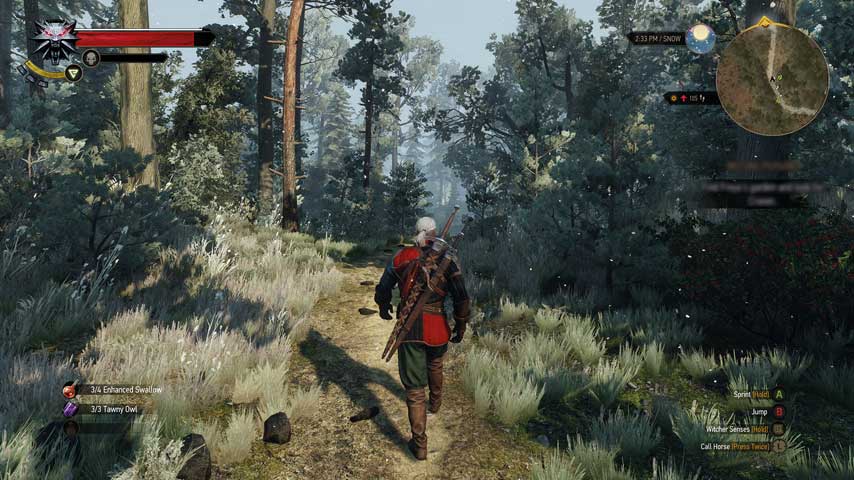 Another simple task that rewards with lots of EXP and some nice herbs for your alchemy bag.

The Witcher 3: On Death's Bed
You'll receive this quest after visiting the herbalist. Lena is dying, and a Witcher potion will either save her life or cause a painful death.
Open your inventory and go the Alchemy tab and scroll down to find the Swallow potion. You'll see you need 1 x Dwarven Spirit, 5 x Celandine and 1 x Drowner Brain.
If you complete the Twisted Firestarter quest you'll be able to pick up a Drowner brain as you go, otherwise you'll find these enemies near the river bank but they can be overwhelming in big numbers so be careful.
Go to the pub where you can buy Dwarven Spirit for 47 crowns. Now you just need the Celandine. You can find this by opening the map and drawing an imaginary straight line between the pub and the Herbalists house. Dead center of that line is a field with loads of herbs and livestock, and you'll find Celandine here.
It's a tall yellow flower (not to be confused with Blowball, which is yellow but grows shorter). If you can't find enough in the immediate vicinity, walk as the crow flies to the Herbalists and you'll come across more Celandine. Once you have enough brew the potion on the inventory page and head back to the Herbalist.
Hand over the potion and you're in for some big rewards for such a simple task: 250 EXP, 50 crowns, 2 x Venom Extract, a manuscript page for Cursed Oil, and the book Of Sweat and Blood.
Back to The Witcher 3: White Orchard secondary quests, or back to The Witcher 3: Prologue (Kaer Morhen, White Orchard).
Back to The Witcher 3 guide and walkthrough.